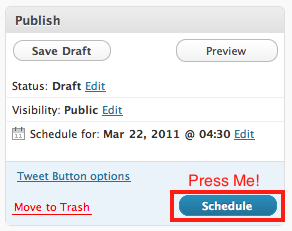 Every blog you write does not need to be perfect. Want to know why? Because every blog I read is not perfect or in some cases even finished. That's the nature of blogging. The point is to get the idea out there while it's still fresh and perhaps even a little bit raw. It is the ideas I am looking for; not necessarily the perfectly completed article.
I'm not talking about phoning it in
If you are committed to a publishing schedule, sometimes you will need to rush a post. Just because a post is rushed does not mean you phoned it in. Often times, the four- and five-sentence posts I share get many more comments than the long article style posts that are worked on over several days. I believe this is true for a couple of reasons.
Readers like bite-sized stackable content. I don't always have time to carefully read a 1000-word post/article. On the other hand, five or six sentences that tell me what's on your mind today is great stuff.
Readers like to complete the thought process in their context. Often times what's on the writers mind will help you take your thoughts in a different direction. Let's face it: You aren't taking time to read blogs if your work is flowing and you're cranking it out.
You've taken a break and are looking for inspiration to carry you forward.
Fear should not keep you from publishing
The response/reaction to a post not published is very predictable – none. There is no feedback (positive or negative) for the post that goes unpublished. My suggestion is you turn those ideas in your head into four or five sentences. If in 24 hours you still don't feel the inspiration to turn them into a 1000-word masterpiece – publish it anyway.
Fear of publishing is keeping you from conversations that matter. By putting the raw unfinished ideas out there, you will generate feedback. Comments will come in on the blog, Twitter or Facebook. One single solitary comment on the post is enough to know it was worthwhile. Even no comments tells you something to make your future posts better.
Keep publishing. Keep putting it out there. Push your own comfort zone.