Too often we view success as achievement of the goal. Isn't that really succeeded? Success should be defined as measurable progress towards your dream. With this definition you know when to say "I've succeeded" and it's time to set a new goal.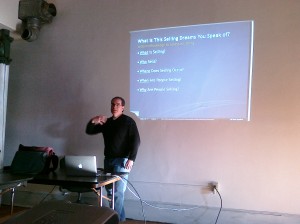 Start with a goal. For example, I set one to speak publicly twelve times  in 2010. It's important with goals to be specific (speak twelve times) and to have a target date (December 31, 2010).
Take some action. Make progress towards your goal ASAP. In my case I added a Speaking page to this blog. As the speaking engagements come in, I add them to the page. When possible I have added video or slide decks for past presentations. Now, those interested in having me speak can see examples of my past success speaking.
As you make progress towards your goal measure success along the way. In six months I have spoken five times so I'm a little behind numerically. On the other hand, I have begun to receive multiple emails each week soliciting speaking proposals. I've managed to find my way on to the right mailing lists to help me succeed. To not include this in a measurement of my success would be foolish. By not having to search out the events I have more time to submit proposals and increase my progress towards the desired outcome.
The momentum of success builds upon itself. The more I speak and update my speaking page the more solicitations to submit speaking proposals I get. See how that works? That's why it's important to take that first action towards the goal as quickly as you can after having set it.
Interested in having me speak? Please take a look at my Speaking page or use the Contact Me form to start a conversation.