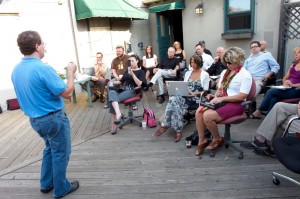 I am an accomplished public speaker with a proven track record of informing and entertaining his audiences from coast to coast. I focus on the printing industry, business strategy and social media topics where I have vast experience worthy of sharing. Previous topics have included C-Level selling, the importance of a blog and color strategy across the supply chain.
Be sure to scroll down the page to see video of my past speaking engagements.
What others are saying about my speaking
Jim – Thanks so much for being our last Sales Club speaker for the Waukesha County Business Alliance! We appreciated you sharing your experiences in selling to higher level prospects, and all of your social media expertise. I know I have a lot I can learn from you, and I look forward to continuing to read your blog!" December 13, 2010 Carolyn Hahn
Hire me to speak
Currently my public speaking time is devoted to the "She Said, He Said" project I started with Shelby Sapusek. Head over to the project page for more information about hiring us for your next event.
Past Events
9/22/2011 – WordPress and MAMP Milwaukee WordPress Meetup.
4/28-4/29/2011 – Mutoh America Inc. booth at SignExpo 3:30pm each day. Las Vegas, NV
4/26/2011 – ColorMetrix User Group meeting, Las Vegas, NV
4/21/2011 – Color in Packaging at FTA Great Lakes Networking Group Meeting, Broadview, IL
1/20/2011 – Changes and Innovation with Print panel – Premedia Spectrum 2.1 Conference.
12/2/2010 – Selling at (and to) a Higher Level, Waukesha County Chamber of Commerce (Sales Club Group)
11/8/2010 – FFTA Fall Conference where I will lead a session entitled Color Success Before Getting To Press.
10/7/2010 – Central Wisconsin Social Media Conference where I will be leading two sessions about blogging.
9/21/2010 – Wisconsin Publishers' Production Club Join us this month for case studies on interactive social networking and the strategies to marketing those tools effectively.  WPPC may well be one of the case studies, since we are redesigning our web site and building a presence on Facebook and LinkedIn.  Learn the pros and cons of familiar channels such as Facebook, LinkedIn and Twitter.  This meeting will be moderated by new WPPC Board member Jim Raffel of ColorMetrix.
7/16/2010 – Likemind Milwaukee The meeting runs from 7:00-9:00am and I will speak for 20 minutes or less around 7:20. We meet at Milwaukee's very own and unique Bucketworks.  Follow the previous links for more details.
6/7/2010 – Technical Conference IDEAlliance + IPA I will be part of the 2:15pm Lighting Round: Advances in Color Quality Control. With John Sweeney of Fine Eye Color it promises to be an energetic hour. Please come join us!
4/27/2010 Milwaukee PHP Users Group Milwaukee, WI
Selling the Dream – The largest business deals I have put together are never quantity purchases of ColorMetrix or ProofPass.com. Instead while talking with a customer or prospect I see a need or the customer sees a use of the technology that goes beyond the current functionality. This is when it gets fun. Instead of selling a piece of technology now I am selling a dream of what the technology will do for the client in the future.
3/1/2010 MKE Live "Ignite" Event – Milwaukee Wisconsin
I will be one of several presenters doing 5 minute quick topics for the LinkIn users audience.
1/26/2010 WPPC Audience Development: Social Networking on Steroids, Pewaukee, WI
I will be giving a 20 minute presentation on how I use Twitter for ColorMetrix corporate & @raffel personal branding.
1/18/2010 Spectrum Premedia 2.0 conference Naples, FL
1:00pm Learning Lab – Proofing Progress & Pitfalls; Leader John Sweeney has invited me to discuss and demonstrate proof verification and process control.


Hiring Jim to speak at your event!