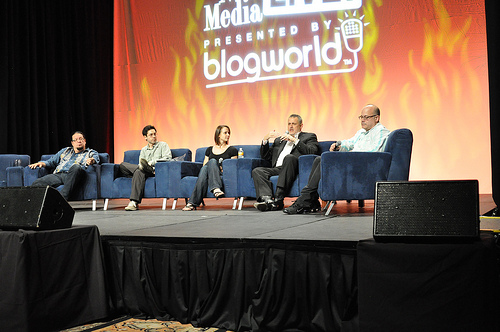 The short version: Be comfortable in your chosen public speaking wardrobe whatever that is.
The closing session of BlogWorld this year included many speakers but as I think back the clothing of two stands out. Penn Jillette was dressed in jeans and a damn nice casual dress shirt. The clothes fit the man. Just as his tuxedo fits when he's doing his unmagic magic show with Teller.
The other was my friend Jeffrey Hayzlett who was dressed in his trademark two piece business suit with an open neck button down dress shirt. Both men dressed the part and looked relaxed and comfortable in their chosen public speaking wardrobe.
This got me thinking about the different ways I've dressed for public speaking engagements over the last year. Everything from jeans and a golf shirt to a two piece business suit with an open neck button down dress shirt. I think I even put a tie on once. I was most comfortable in the two piece business suit, believe it or not. This from a guy who wears jeans, flip-flops and t-shirts about six months out of the year (Wisconsin weather permitting).
I grew up in the retail furniture business. I was wearing a jacket tie on the sales floor by the time I was sixteen. I've never been uncomfortable in "dress clothes." That's the key – wear clothing you feel comfortable and natural in. If it's jeans and t-shirt I'm perfectly OK with that that. I came to hear what you have to say – not to see what you wear. I can attend fashion shows for that.
How about sharing what you like to wear when speaking. Or, how you prefer to see a public speaker dressed?