Over the last few weeks I've been asked by several people how do you pick a WordPress theme. The real answer is I got lucky and fell into one of the best ones, Thesis(aff link) about a year ago when I was redesigning ColorMetrix.com. Recently I discovered the power of a child theme or skin combined with a theme framework like Thesis.
First things first. In order to be able to achieve the results I am presenting here you will first need to purchase the Thesis theme. I've provided an affiliate link in the paragraph above and the "ad" to the left is also an affiliate link. That being said there are other theme frameworks out there that have large communities contributing child themes or skins. If you don't choose Thesis at least make sure to pick a theme that fits those criteria.
The Thesis Community
I began realizing the value of the community that grew up around Thesis almost immediately. With 20,000 plus developers utilizing the theme there was nothing I wanted to accomplish on the new ColorMetrix site that I could not find advice and how-to information about. The help came in two flavors.
Private Forums. As a paying owner of the Thesis theme you are granted access to a community with tutorials and forums chocked full of advice and how-to articles.
Other Blogs. Because of the affiliate financial incentive many bloggers (like me with this post) write about Thesis. I write about how the product has made my use of WordPress easier. Many of the cool effects and features I added to the blog I found by googling for the answer. The incentive of a few bucks in affiliate revenue drives the desire to share what works.
The community support behind the product is more valuable than the product itself. That's what I've learned in the almost year of utilizing Thesis.
Skins: Better Design, More Easily Achieved.
That brings me to the latest redesign in my family of web properties (There's only like five or six but family sounds cool). For several years I have assisted some colleagues who brought the Molkky tossing game to the USA. I helped them setup their first website for the product which you can see below.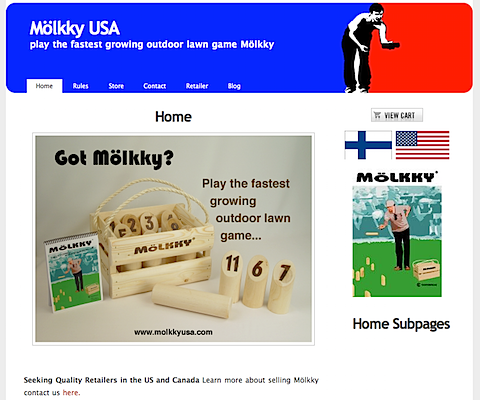 Please be kind, I'm not a designer. As you can see the site was in serious need of some modernization. The biggest thing to me was lack of calls to action on the main page to "Buy now."
Time is my enemy. My partners kept pushing for a redesign and I kept pushing back that the revenue involved, for now, is fairly small and the time required to do a quality redesign is fairly great. Enter ThesisThemes.com Straight Shooter – FREE Thesis Skin. Yes, unless you want to have permission to remove their footer on your site the skin is 100% free. (As I mentioned before you need Thesis(aff link)for the skin to work). They also have a host of premium skins you can purchase if one of the free ones does not fulfill your needs. (I have no affiliate relationship with ThesisThemes.com)
The Results. With the Straight Shooter skin and about 6 lines of CSS I was able to accomplish the redesign below in less than a day.
Above the fold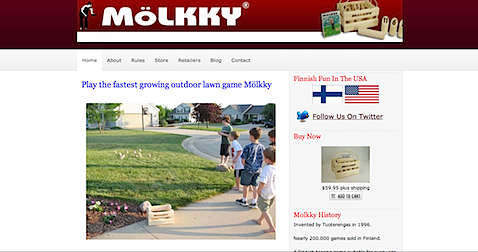 Below the fold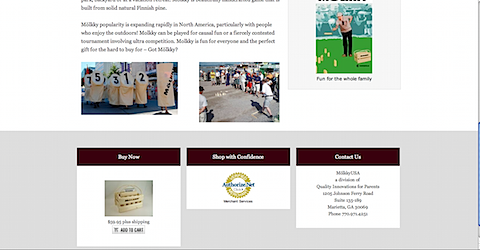 Is it awesome? No, I'm not a designer but for a non-designer to produce those results in less than a day I say is pretty impressive. Now there are "Buy Now" calls to action at the top and bottom of the page. There is a "Follow Us On Twitter" call to action. Most importantly a whole new look that doesn't look so 90's web-site in a weekend. (or so I hope.)
The Nitty Gritty
Yes, really less than a day. Now, to be fair I already had a year of Thesis "learning curve" under my belt. Also, to be fair about three or four hours was spent researching child themes/skins and trying a few of the free ones out. In order to use the chosen ThesisThemes.com theme I was required to install their Skins Manager on top of WordPress and Thesis. Not real difficult if you know how to FTP files and follow directions. The Skins manager is actually a pretty nifty feature once you have it installed.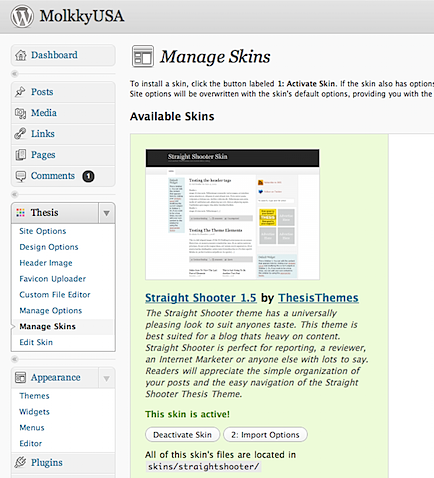 The problem of layers. My only real issue with the entire solution is this.
1. WordPress – New Release.
2. Thesis – Have to wait for compatible release.
3. Skin – Can't be upgraded until the other two are.
It's not really that big an issue if #2 and #3 are ongoing concerns servicing their customer base.
Closing Thoughts
I wish I'd done some more digging a year ago and figured out that skins existed for Thesis. Or maybe not, by knowing the ins and outs of the feature rich theme I can tweak almost anything on my sites without any code. When code is needed it's typically a line or two of CSS. I'm glad to know that now I can create a new or upgrade an existing site with less than a days work using the theme framework and a child theme or skin.
Help Me Out – Two Small Favors
1. If you found this post useful and are thinking about purchasing Thesis please click on one of the affiliate links now so that if you do decide to buy in the next 30 days I'll get credit for your sale. – Thanks in advance for that.
2. If you follow the advice above (even if you already own Thesis and are just trying the Skin idea out) please post a link to your site in the comments. I'd love to see your results.