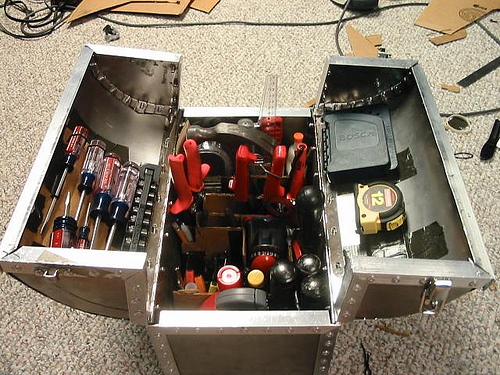 While I travel a great deal and am a big believer in face-to-face business contact, the reality is that I make my living online. I say that, because over the last four or five years it's been my online activity that has driven the business I do offline and face-to-face. To drive that business success I have turned to the open source WordPress platform and a trio of premium add-on packages.
Essential WordPress tools
There are three activities related to website development and maintenance that can take an extraordinary amount of time if you allow them to:
Design: If you're not a designer this activity alone can be both frustrating and take far too much time away from your business. At publication of this post this site is a perfect example of how difficult and time consuming the process can be (without a great outcome). Over the next few weeks I'll be moving this site to News Pro a child theme of the Genesis framework by StudioPress. This is the WordPress theme framework Shelby and I used for She / He Media and several clients of that business as well. While we've tried other approaches this is the tool we've settled upon for WordPress website design in 2014.
SEO: Search Engine Optimization is equal parts art and science. While it makes sense to keep up on the topic by reading blogs and attending SEO meetups, there are tools that make the day-to-day process of SEO on your website easier. For WordPress sites I've been using Scribe Content for almost four years since it's initial release. While there are free tools that work, they don't provide the depth of research and education about SEO that Scribe Content does. While the starting price of $97/month may seem steep, I simply look at the amount of time it saves me each month and the incremental traffic generated to easily justify the cost.
Lead Capture: The completion of a contact form, or subscription to an email newsletter are two significant conversion goals of just about any website. It stands to reason then, that the tool you utilize to manage this last and most important step on your prospective client's journey should be a good one. I struggled for years with "free" forms management packages for WordPress websites. Then, after hearing about Gravity Forms for a couple of years I got to try it out on a site project I was asked to help on. There is a reason Gravity Forms is premium and thus has an annual cost associated with it. This is an extremely powerful forms management tool that is easy manage and has integrations with lots of other valuable tools like PayPal and MailChimp just to name two. If your site is for business don't mess around with the free solutions, go pro with Gravity Forms. You'll be glad you did.
Putting all the essential tools together
I've been using each of the three essential WordPress tools for business success for at least two years. On sites like She / He Media we are using all three of the tools, Genesis, Scribe, and Gravity Forms. You'll find Scribe and Gravity Forms on the backend of every site I'm associated with, even when we've gone a different direction for front end design work.
With all three essential tools in place I find we spend less time maintaining the site once we have it setup and looking the way we want. Professional companies, like those behind these three products, continue to update and improve their products as the WordPress core project grows and changes.
If you're running a business, you need to seriously look at professional grade tools to make running your WordPress site easier to manage and more effective at lead collection. On the other hand, if you're running a hobby site, by all means seek out free alternatives to these options and please leave a comment so I and other readers know about those resources as well.
And the affiliate links
If you're planning to take a look at any of all of these essential WordPress tools for business success, please click on the links in this post or on the images below. I'd sure appreciate the affiliate revenue.