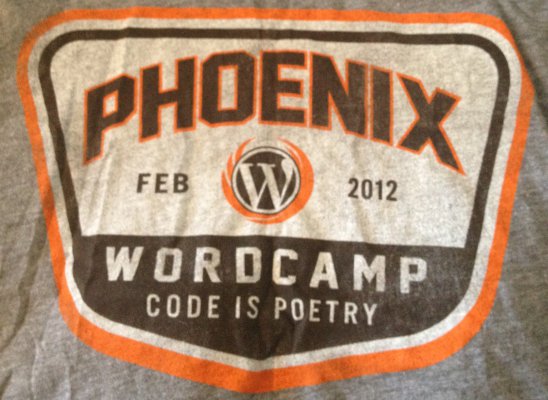 I spent this past Saturday at WordCamp Phoenix 2012 and, as it has become my custom, I'm sharing my takeaways from the event with you today.
The unexpected and intangible
Networking: I've been to enough conferences that I know this, but I always seem to forget that one of the biggest values of taking the time and spending the money to attend face-to-face events is connecting with folks. I got to meet some of the folks from our managed WordPress hosting company ZippyKid and reconnect with folks I've met at previous WordCamps. I'm a little disappointed in myself that I didn't make any new friends. I'm not really sure why that was, but I plan to make sure it doesn't happen at future events I attend.
Rockstar Bar: While at the event, Shelby and I discovered a problem with our SheHe Media site that we could not seem to solve on our own. After lunch, we spent about 30 minutes with three different WordPress rock stars at the Rockstar Bar. With their help, we confirmed it was a result of the configuration of our server side caching for the site. It wasn't something we could fix ourselves, but at least I knew what to put in the ticket so that my friends at ZippyKid could help us resolve the issue. Once again, the power of the WordPress community proved itself to me. The community is a bunch of great folks all trying to help each other be successful.
The sessions
Next generation web: Technologies to take your UIX to the next level: I started the day with this session presented by Jake Goldman and I'm sure glad I did. Early on in the presentation, he asked the audience if we thought the combination of HTML5 and CSS3 could eventually reduce the need for dedicated apps. My gut has been telling me "yes" for a awhile now, but in about 45 minutes Goldman provided compelling evidence that HTML5 and CSS3 hold great promise. I'd suggest taking a peek at his slides. If you are in a rush, just jump to slides 43 and 46. The links provided on those two slides are compelling proof of the promise HTML5 and CSS3 hold for the next generation web in the coming years.
BuddyPress & Multisite: This session was presented by John Hawkins, a true WordPress Ninja. Over at SheHe Media, we've been giving some thought to an easy way to administer the multiple sites for which our little media company is responsible. Hawkins' fun and lively presentation convinced both Shelby and me that a move to WordPress Multisite makes a great deal of sense if you are administering and developing on multiple sites. I'd love to make the move yesterday, but because it's not a trivial decision, we'll spend some time developing a migration plan. This will involve more investigation and working with our hosting company, but Hawkins did a great job explaining what we need to consider.
Journalism: I went into this session with a great deal of skepticism. After all, Shelby and I have argued this topic many times on the SheHe Media blog and during our weekly #shehechat over on Twitter. I was pleasantly surprised that Ryan Imel took a different approach. He recognized that a blog is simply a delivery mechanism for writing and focused on the tools (plugins) that can make your your writing process a smoother one. Like Shelby and me, he believes that if your blog is more than a one-person effort, you need additional tools to support the editorial process.
E-Commerce What to Know: I rounded out the day with Aaron D. Campbell's presentation about using your WordPress site as an e-commerce platform. Campbell has shared all his slides here, which I found to be informative even to a guy like me who's been doing e-commerce with WordPress for several years. He rounded up four of the more popular shopping cart options and also stressed the importance of taking PCI compliance seriously. There are plenty of useful links in the post so if you are considering e-commerce for your WordPress site. I'd suggest taking a look.
It's all about the community
Each time I attend a WordCamp, I am blown away by how much time members of the community spend helping each other out for free. If you have even one WordPress site, I'd recommend finding a WordCamp near you and spending a Saturday engaged with the community.