Allow me to introduce Sue Spaight, the author of this guest post. Sue is asking for your support of a local event in Milwaukee to help one family recover from severe flooding that occurred here earlier this Summer. I didn't offer this guest post lightly (yes, I offered she didn't ask). I realize that for some of you, well wishes, hopes and prayers are all you can offer or are comfortable giving and that's OK. If this is not your sort of thing, just skip over the posts, move on and please don't be offended. If, on the other hand, you think there is some way, small or large, you can help Tim, Jess and Clara (the cute little baby girl in the picture) please do and thank you!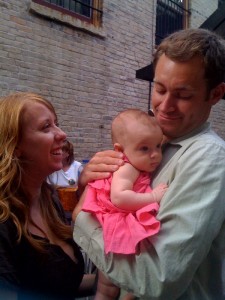 Well, after 6 weeks of intense planning-and-tweeting, it's finally here – the epic #saveteecycle fundraiser event. This is not your ordinary, stuffy fundraiser, kids. It's going to be a blast. 7PM-10PM, at Sprecher Brewery. If you haven't yet decided to come, or support with a donation online at www.saveteecycle.org, here are ten reasons why you should do it.
1. Celebrate Community. This event coming together has been a phenomenal example of hundreds of individuals and outstanding businesses coming together, one by one, to right a wrong and help out families whose lives were upturned by a flood. If that is not worth celebrating, I don't know what is.
2. Surprise. Whoops, can't tell you about this one. But you're not going to want to miss it. Heads up – might want to bring your kleenex.
3. There is no ticket required or entrance fee. We will ask you for a donation at the door – whatever you can afford to give is great. Whether you can give $1 or $500, your moral support is just as valuable. That said, we are hoping to raise enough money to repair the home of Tim and Jess Cigelske AND extend our help to their neighbors and others in the community. So please do all you can.
4. Sprecher Brewery is an uber-cool place with great beer and soda (cash bar) and has generously donated its space for all of us to have some fun in tonight.
5. COA restaurant – Milwaukee's best, most authentic Mexican restaurant – has generously donated all of the food for tonight's event including mouthwatering Barbacoa and spinach empanadas.
6. Ted Perry from Fox6 will emcee tonight's event. Hilarity will ensue.
7. Perfectly Average will provide musical entertainment.
8. The Shirt Off Your Back T-shirts that have been donated to Teecycle will be available for all. Pile them on, then bid on each others T-shirts, just for the hell of it and to meet some new people.
9. Silent Auction and Raffle with some great items to bid on. Have a fantasy of golfing with Susan Kim and Vince Vitrano (or just Susan Kim?) Now is your chance. Into ping-pong and want a membership at Spin, the new club in the Third Ward? We will bring it to you. And much, much more.
10. Support Amazing Business Sponsors. In addition to Sprecher and COA, some amazing businesses in our community have so generously stepped up to help. William Ryan Homes has been all in, working on Tim and Jess' house. You'll learn more about that tonight. Renewal by Andersen windows of Milwaukee donated beautiful new windows for Tim and Jess' house. Kashou Carpets donated new rugs. These amazing people who understand and embrace community deserve our support in return.
We cannot wait to see you tonight! But if you can't make it, please do stop by www.saveteecycle.org and do all you can to help people whose lives were upturned by the #brewcityflood. If you have any questions, find us on Twitter: @suespaight and @bootyp