Recently, I was scrolling through Avinash Kaushik's Win Big With Web Analytics: Eliminate Data & Eschew Fake Proxies when it hit me why images in posts work. First, I don't pick which Avinash posts to read by title. He only writes a few posts each month so I skim each one for value (also his titles would typically scare me away). The image below caught my eye and here's why.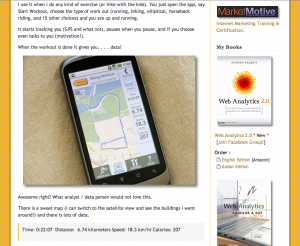 Image resonation (I made that up). This particular image is of an Android app called Cardiotrainer. I use Cardiotrainer almost every day so I'm naturally curious what Avinash has to say about the app (I'll let you go read his article for that perspective because it's a good one). The image resonated with me and drew me into read the article instead of skimming the headlines. Thus illustrating to me that images in posts work to increase readership and perhaps even sharing.
Image selection. For Avinash, picking this image was probably an easy choice. The Cardiotrainer app on his Android device was a key theme of his article. It reminded me, however, that sometimes I spend more time selecting a creative commons licensed image than I do writing because I know images in posts work. Selecting an image like Avinash did that resonates with a certain percentage of your site visitors, will increase your readership.
Calls to action. Another reason to include an image in a blog post is to generate revenue. The image can be a call to action like I did in Scribe SEO Copy Writing Made Easy. If interested I wanted you to click on the image and take a look at ScribeSEO with the potential you would subscribe and I would earn affiliate revenue (Also known as "take the wife out to dinner" money). In this case I had a nice image provided by the folks at ScribeSEO and a more inviting link to the affiliate site. (The post was successful in at least one conversion, resulting in ongoing monthly revenue).
The rest of this week I'll be writing about actions like; consistency and reliability in your publishing schedule; promoting your blog with social media channels; and not forgetting to promote with email. If you don't want to miss any of these posts you could subscribe via RSS or email: