From a blogging perspective I am most inspired by other bloggers. Some bloggers have the ability to capture so much of themselves in their writing that to read their blogs is to know them. About a year ago I came across the blogs of Anne and Krista, both of which have helped inspire my personal development and renewed interest in blogging.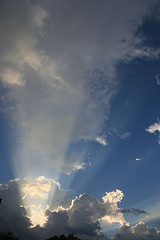 Anne. I read Nothing in Moderation and Better Than I Was Yesterday on Bananzattack almost a year ago. At the time I remember thinking to myself, you came through all that and transform yourself into the person that writes this blog? If you can do that, then I too can do almost anything to become a better person.
Krista. Shortly after meeting at a Tweetup I took a look at Krista's blog and a post about time was right there waiting for me to read. I was at a point in my life when I needed some time to heal. Reading the words of someone else reminded me time takes, well time.
Not every blog I read is about business. Not every book I read is about business. I get outside the box and look for ideas and inspiration anywhere I think I can find them. Sometimes I even look where I don't think ideas and inspiration will be and – surprise there they are.
Your turn, who and what inspire you?