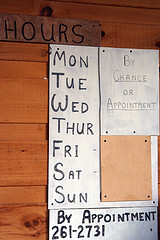 Not to long ago my friend Sue Spaight asked the following question on Twitter:
"What is your take/experience on the three "best days" of the week to blog?"
First, if you are a blogger or blog reader I'd sure appreciate it if you could take a minute or two and share your thoughts in the comments. Sue is one smart cookie and if she's asking it's for a good reason. In this case it's to help out a non-profit she is working with.
Next, after thinking about it for almost a week I decided to reframe question.
"If you could only blog three days a week which three would the be?"
Monday, and it would be a business or blogging oriented post (like this one).
Wednesday, It's the middle of the week and folks can use some inspiration or a good business story to carry them through the week.
Saturday, what a fantastic day to write about whatever I want. Normally an inspirational or self improvement topic.
That's how I'd do it. How about you?