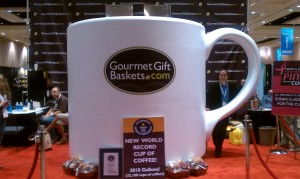 Take a look to your right over in the sidebar of this site. As you scroll down you'll see a picture of me holding a cup of coffee. Below that you will find the Idea Box.
The title of this post came right from the idea box. So, you too can submit an idea or question over there and perhaps one day find your answer in the form of a blog post.
The role of coffee in this blog is simple. I'm by and large an early riser (sometime between 4 and 6am depending upon when I went to bed). The first thing I do is grab a cup of coffee and do some reading and writing before the day turns crazy (as they almost always do).
As a result I am almost always drinking coffee when I am writing.
The picture accompanying this post was taken recently at BlogWorld. That's the Guinness World Record largest cup of coffee. Thanks to my anonymous Idea Box friend I found a good place to use it.
Remember you can either leave a comment that everyone can see or just shoot me a quick anonymous message over in the idea box. I'd love to hear from you either way.