Every (not most) blogger I know struggles with the topic dilemma. Do I write the short, raw, shoot from the hip post? Or, do I take the time and write something deep, thoughtful and potentially game changing? The later post style will probably bring us business and potentially put food on the table.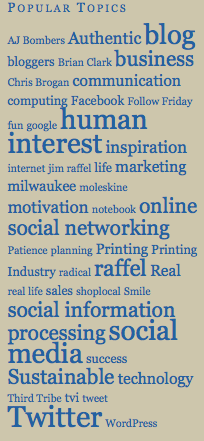 Balance and Moderation. I blend the topic types on this blog. Most of my posts are written quickly and with raw emotion. They are what I am thinking about now and convey to you, the real me. Once a month, or so I dig deep and write a post that takes several days or a week to pull together. Those posts typically track with my business activities of the moment. If you read them carefully you can extract some of my real art from those posts. The last 5% I seldom give away for free.

Quick Story. I had a conversation with my friend Sue Spaight last night about the topic dilemma. I commented that yesterday's post took me about twenty minutes to bang out. Then, I mentioned how much I liked her recent post about turning around a day that had the potential to turn crappy. Sue said that I must have been the only one to read it because she had crickets in the comments for the post.
Defining posts that work. Sue went on to say her posts about social media strategy get zillions(I might be exaggerating a little bit) of comments. She continued by saying that must be what my readers expect from me. She was frustrated and I understand that frustration. Who's this blog for? Me or You? I've written often about this topic and I'm going to answer the question with yes.
Blogs are not traditional media. As a blogger I get that. I don't have writing standards like the New Your Times. I write what I want, when I want and sometimes even slip in naughty words. This is me. No sources, no fact checks and often times publishing within minutes of my last proof reading (which means it's still loaded with errors Cheryl will catch later). This works for me and I solved the bloggers topic dilemma for now, by writing what I am thinking about – today.
There will come a day. On that day my topic dilemma will often be solved by business needs. I've watched a friend's blog go that direction. I'm OK with it. He's earned his trust and social proof after more than a decade of always writing for us. He's choosing topics now that will generate revenue for him and his family. Cool! Know why? He's still writing with honesty and transparency.
My plan. Continue to write with honesty and transparency no matter where the topic dilemma leads me. Your trust is too valuable for me to do it any other way.
Does that work for you?