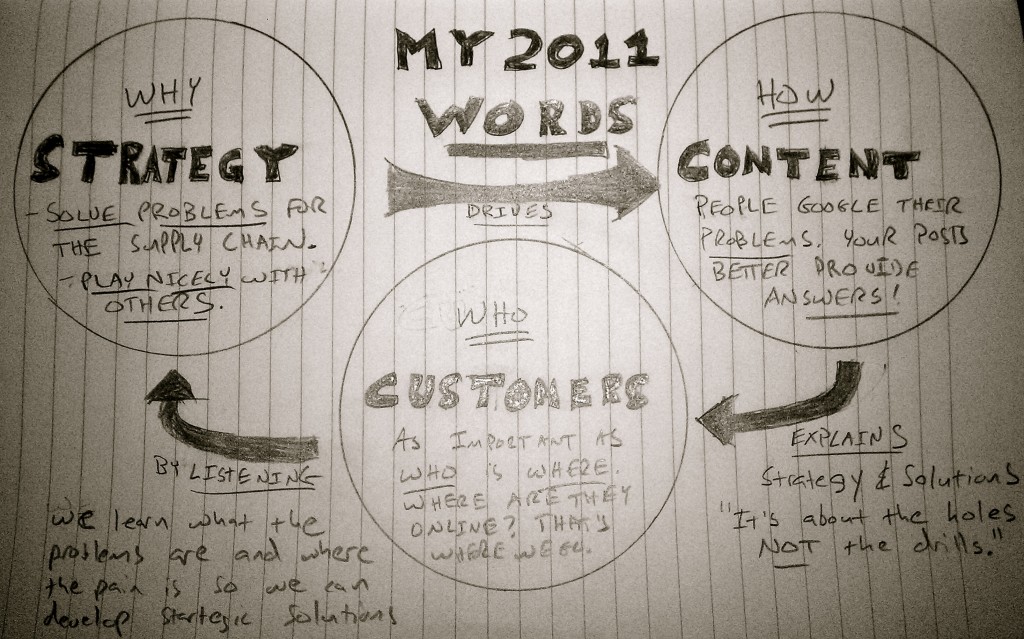 For me, 2010 marked a year of radical changes in the way I do business. It was in many ways a year of rebirth, learning and growing. While the learning and growing will continue in 2011, it will also be a year of solidifying positions established in 2010. In 2010, I developed an over-arching strategy for future success that focuses on customers, content and strategy.
By customers, I mean understanding who they are and what they really need. They don't need a blog to read. They need answers to their questions and problems. There are plenty of blogs already. They don't need color verification; they need the right color every time. You get the picture. It's not about selling drills, but the holes that can be drilled.
By content, I mean media that provides solutions to my customers' problems. Media creation can take the form of a blog post, a public speaking presentation, a technology offering or any other appropriate form either as existing or new media. The content of the media will focus on holes drilled, not the drills used to drill them. Stories will focus on the how and why of problems solved, not the technology used to solve the problems.
By strategy, I mean focusing on supply chain-wide solutions. Content and technology that focus on solving the problem for one player in the supply chain are not enough anymore. Strategies for business and personal life have to be viewed and validated at 30,000 feet before diving down to act on the battlefield. We must search for solutions that work for all of us. No longer is a solution that works for one of us good enough for the rest of us.
Lessons learned in the past year have taught me how to better find my customers. I deliver content to them that is meaningful and useful. In 2011, I'll utilize the skills I've gained in the social media and community universe to focus media creation on the printing and color topic areas. This will all be driven by an over-arching strategy that focuses my time and efforts where they should be: on customers, content and strategy.
What's your over-arching strategy for 2011?