People often talk about turning their life around. Making a 180 degree turn. Really? Seems to me that means you went right back where you came from. Me, I took a hard right (90 degree turn) about a year ago and am darn glad I did.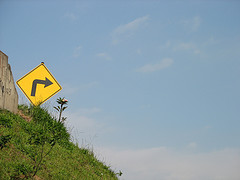 I was on the wrong path and going either way was not going to get me where I needed to go. Sometimes I go back and look at my blog to gain perspective of where I've been. If you do the same you'll see a huge hole in my blog from February 28, 2009 to June 8, 2009. Where in the world was Jim Raffel? Lost, let's just go with lost for now. Continuing down that path was not going to work. Turning back…not so much.
Hard lessons. Until just now I didn't realize I did not write one single blog post in those three months. It's probably a very good thing. I remember writing three very personal notes during that time. One to my son on his birthday. One to my daughter for high school graduation and one to my wife. I wrote to the people who needed to hear from me the most.
I saved myself and social media helped – big time. When you are at your lowest the only one who can save you is you. (In my case with a lot of help from a higher power). It was through social media I discovered my friend Anne and her blog which I think of as one of the key milestone in my new journey. She had just begun sharing her story and one post in particular hit home and got me thinking in a different way about myself.
Another Key Milestone was meeting Joe Sorge. Joe is an amazing guy who is way more giving than I think he realizes. A few months after meeting Joe he invited me to sit down and talk one afternoon. For perspective remember I am finding a whole new footing in life at this point (January 2010). I was relearning that I am a successful person. Joe treated me as a successful business peer. More importantly he suggested I read a few books and listen to a few podcasts. I've always been big on reading success and personal development books. Joe's recommendations had a different focus than any of my previous reading. Go peek at my January and February writing to see the changes first hand.
Recently I attended the unGeeked conference. Never has attending a conference changed me more. I began to connect face to face with people I had known on Twitter for a while and some new people Cd had brought to town for the event. My friend Sue Spaight tells me I've been on a writing roll every since. Swing back to early May and start reading to see if you agree. I still remember Day three sitting at the same table with Sue who I'd finally met face to face and Angel Oakley who I'd just met for the first time at the conference. It was my favorite day of the conference.
Co-working at Translator Digital Cafe lab hours. I try and swing by "the lab" once or twice each week so I can spend some time with other humans. The hardest part of working solo from my home is the lack of face to face human time talking about real life business issues. Co-working only works with the right people and the Translator lab rats are the best. Mark, Cindi and Andy stretch my brain each time I stop by the lab. Co-working has been a huge milestone for me.
My new inner circle. I've written before about you being the average of the five people closest to you. Your personality, your interests, your everything. Only two of my five are the same people. My wife and my business partner. The other three are all new and I'm not even sure who they are yet. I think at least one or two of them have been mentioned above but I really don't know yet that's still shaking out. I know which three are not there anymore.
More than one of you has pushed me to tell more of my story. Hopefully this post gives you a little more perspective on where I write from. What do you think, more posts like this?
Photo Credit: http://www.flickr.com/photos/dip