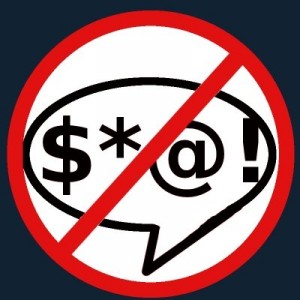 When I wrote "Replace "ums" with Pregnant Pauses when Speaking," I never expected to circle back to the post as a way to swear less on social media – and in real life, for that matter. It is, however, that simple. When you feel like letting an f-bomb (or some equally offensive language) fly – stop! One split second is all it takes.
Swearing is emotional
I've taken a look at when I swear; both in real life and in social media. It's normally a raw emotional response to a situation. What would happen if for one second you held your tongue and thought about the situation? I'm sure you'd still have something to say but it might be more measured and effective.
Just a few minutes ago, I sent a text to a friend "I94 is a f-bombing nightmare." Is that what I really meant to say? No, what I actually meant to say was "I94 is a real mess with all this construction." Which text would you rather get? Me? The latter, thank you.
Leadership is about being the calmest person in the room
Constant swearing is a sign of someone not being thoughtful and contemplative of the current situation. In a crisis, are you more likely to follow the leader who is swearing up a storm or the one who is speaking slowly, clearly and calmly?
I've heard it said that swearing shows a lack of vocabulary. I prefer to think of it as acting too quickly to let my brain make use of the vocabulary I have. Go back and look at my text message example. The first text tells you nothing except I'm being emotional. The second, in only a few more words, provides context that has meaning even now after the fact.
The other option is that you're trying to emulate your favorite comedian who swears for effect. Just remember that, like gratuitous nudity, gratuitous swearing loses its effectiveness quickly. At a certain point, most reasonable people say enough already.