I've heard it said that the thing successful and non-successful people have in common is that they both hate doing the things required to be successful. The difference is the successful person does those things anyway.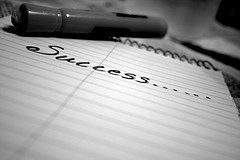 It's Work. The path to success is not particularly difficult. Many, many people before me have clearly explained what's necessary. The problem for some is that getting there requires a great deal of hard work. Whatever your chosen path in life may be, there are clearly defined activities you must do regularly (probably each day) to be successful.
My new plan. Recently I heard a colleague utter the following phase "Quality, more easily achieved." Since hearing that I have been hooked on the concept that "more easily achieved" can be applied to everything we do in life. My friend was not talking about doing less work per se but instead making the work that needed to be done, to achieve her quality goals, easier to do.
Start right, end right. Both business owners and the employed only have control over two times in their day. The early morning hours when you wake and the time right before you head off to bed. Treasure that time. It's where success happens. I write almost every post for this blog at one of those two times. I take care of my most important customer related emails first thing in the morning before the phone is ringing. I read my favorite success related blogs just before bed each evening.
The middle can be a battleground. Once I get outside those first two hours, the middle of the day can and usually is a mine field. Even when the workday is predictable it's a grind and it's seldom predictable. There is no way to know what your customer/boss will need from you on any given day. For this reason, it's extremely important to lock those activities that are important to your personal success into the early morning hours and the late evening hours.
What's your plan for success, more easily achieved?