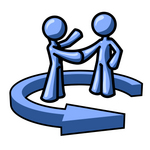 The traditional sales prospecting model is becoming increasingly ineffective over time.
Five times in less than two weeks I have been solicited by voice mail message or email. Wait, by the same person! This is downright annoying. Obviously I have the tools to filter this noise out of my communications stream and I have. It just underscores the importance of permission based marketing.
The person in question is clearly following the instructions of an employer (I've heard enough telemarketing scripts and read enough scripted emails over the years to be able to tell). Hard to believe that a technology placement firm does not understand the power and value of social media and community based marketing strategies.
What if instead she spent her time listening in the social media space for individuals and organizations starting new technology products. Then, do the research by visiting the organizations' web-sites and using tools like LinkedIn to track down the right people. See if those people participate in Twitter or other communities where you can interact with them a bit.
Sure it takes a little longer, but bagging an elephant is not for the faint of heart. Until recently, while not a fan of these traditional sales techniques, I employed them from time to time during slow periods. No more, never again. Instead develop a set of social media skills using the tools of your choice to actively participate in the communities where your potential customers live.
You will learn to identify and understand "the pain" your target market is feeling, perhaps before they even realize it. Also, by your participation in the community, your prospective customers will know what kind of pain you specialize in fixing and making go away. Does your doctor call you and ask if you have a broken leg? Of course not. You know that when you have a broken leg, your doctor can fix it. Your customers should feel the same way about you.
What do you think – is the traditional sales model doomed? Do we need to find new and more effective methods to share our message and reach the customer? Are they really a customer anymore or a fellow community member as well?