Starting and running a small business is hard work. Forgot about 9 to 5 this is not a job. Success, in fact will be defined by working more hours than you dreamed possible and loving every minute of it.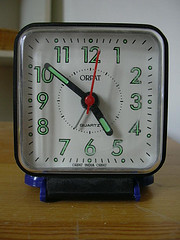 You want to change the world? Not in 40 hours a week you're not going too. My guess is you'll spend 40 hours a week getting your customer facing work done. Then, another 20 to 40 hours a week growing your knowledge and doing all the behind the scenes work necessary to keep your business running. That's right, 60 to 80 hours a week to get this baby cranking.
Work when your customers need you. Caller ID and a smartphone are your friend. When a customer contacts you before 9am or after 5pm …. respond as quickly as humanly possible. You are either matching the service of your competitor or differentiating yourself from competitors who leave them hanging until 9am the next business day.
Don't waste time. Unless your driving the vehicle, travel time to and from customer sites is not play time it's work time. Read a business book, prepare for the meeting you are attending, catchup on expensive reports of paperwork. The reason your friends think you are only working 20 hours a week is because you don't gather around the water cooler four times a day to chat. I've written entire blog posts in the 30 minutes before a flight boards. The same thirty minutes several of my fellow passengers spent in the bar grabbing a beer. It's a choice, your choice to use the time wisely.
Vacation is a twenty hour week. Perhaps I really am just a workaholic but for me being on vacation still means working 20 hours a week. I refuse to leave my customers hanging. I am capable of reading email once a day and responding. I bring along business reading to read when my head is clear and my schedule as well.
Work/Family balance. Like you had that when you couldn't take off work for a ball game of school field trip? You didn't, you had the illusion of balance. The flip side for a small business owner is the 2 or 3 hours of work that comes after the cub scout meeting. Yes, you will work your ass off and be dead tired….a lot. The key is if you love what you are doing none of it will bother you.
I'd love to see the comments on this post filled with input from the other small business owners I know read this blog. Please, back me up or let me know I'm all wet. Either is fine.