Tomorrow (April 27th 2010) I am presenting a talk about selling the dream for the Milwaukee PHP User Group. The meeting is open to all interested parties and will be held at the very cool new home of Bucketworks.
Since I don't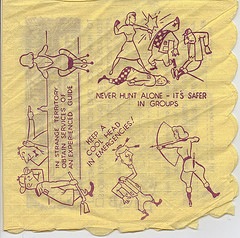 believe in coincidences, I knew there was a reason Justin Kownacki posted this piece on The Golden Rule for Conferences yesterday. As I read through his thoughts about the good and bad things presenters do, I was reminded that I would be a presenter this week. Do I know most of what Justin shared? Sure. Do I need to be reminded of the basics over and over. Most definitely.
I've spoken more this year than any year in my past. Each time I speak I get more and more comfortable in front of a crowd. There's really nothing to be afraid of and I don't even picture someone in the crowd in their underwear anymore (remember that advice from high school speech class).
I have also been finding lot of presentation tips shared in Phil Gerbyshak shared RSS feed. Again, I don't believe in coincidences. You are successful in large part because of the people you choose to surround yourself with. I read the blogs of other successful bloggers. I follow the RSS feeds of other presenters and successful business people. I watch what the people more successful than me are doing and then (get this) I do it!
I want to be a great public speaker and presenter. That means it's time for me to start spending time with, reading about and observing the public speakers I want to be like. Does that make me a copy cat? No way, it makes me smart enough to follow my dream by observing and learning from those who are living it.
Just because I sell dreams to others does not mean I don't buy a few of my own along the way. Dreams are where it all starts. Those thoughts in your head that feel real. Find a way to achieve yours.
Why not start by coming to see me speak tomorrow or catch my talk on Ustream.tv (if it works). What dreams are you pursuing? Who are you learning from along the way? Please let me know in the comments. Thanks!