Matt Mullenweg's success with WordPress has convinced me to unThink "it can't be done." In 2003 Matt (as founding developer) released WordPress which is the platform this web-site and about 202 million others run on. (No I didn't make that number up, it's in the linked Wikipedia article).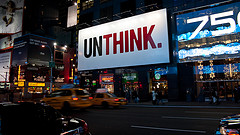 Matt was in his late teens when WordPress launched (he's only 26 as of this writing). I'd speculate that more than a few people told Matt "it can't be done." He was releasing an Open Source platform for bloggers in 2003.
Think back to your late teens, anything was possible. The world was your oyster. If you're like me "can't be done" was a phase your brain could not even process. Somewhere along the way you started letting self-doubt and the "expertise" of others creep in your brain and convince you somethings can't be done.
Your change in thinking didn't happen overnight. As a result your unThinking process may take a while. Maybe it was parents, siblings or jealous co-workers that crept in your brain little by little and crushed your "I can do anything spirit." Fear not, you've still got some of that spirit inside you or you wouldn't have had the courage to read this post.
I'm unThinking "it can't be done." Over the last few days I've looked back at some of the biggest successes I've enjoyed in my life. In the last couple years I've pulled some real rabbits out of the hat. I bet you have too. Take a few minutes now and focus on your biggest successes over the last five or so years.
Mixed in all that success was a lot of adversity. If you are anything like me achieving your biggest successes was a lot of work and often involved some serious adversity. The human brain is an interesting instrument, it blocks out most of the bad stuff. As a result I am theorizing it's tough to look back and fondly remember some of you bigger successes because of all the BS that came along with them.
unThink "it can't be done" one negative thought at a time. Recently I wrote about the importance of watching your thoughts. When I catch myself thinking "it can't be done" I do two things. First, I ask why? In the face of no compelling and fact based why I immediately rethink the thought with "it must be done." My biggest successes in life happened because they had to.
Are you ready to unThink "it can't be done" and reThink it with "it must be done?"