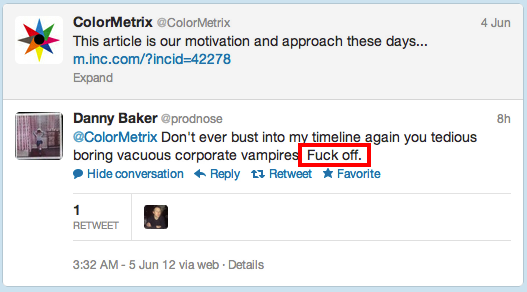 I'm sitting here asking myself why a famous radio personality from England would take the time to tell a small company from the US to "Fuck Off" over a promoted tweet on Twitter.
It wasn't a particularly remarkable Tweet to begin with
First off, it's funny (and a tad embarrassing because we are still figuring out Twitter Ads) that the tweet getting promoted links to an article in the online version of Inc. Magazine. A darn fine article about how "Your Story Is Your Marketing Strategy." I wanted to figure out who this Danny Baker character was, so I did a little research. He's got a fairly interesting story of his own so I'm curious why the article didn't resonate with him to some extent. Perhaps he didn't take the time to click on the link and read it.
But your Twitter subscription costs so much…
Next, I thought maybe it's the promoted tweets aspect of the whole experience. You know how we all pay so much for our Twitter accounts…oh wait, that can't be it. Twitter, like over the air radio is basically free for us end-users. That means the revenue to support the Twitter corporation has to come from somewhere. Yes, Danny, Twitter is a corporation unlike little old ColorMetrix which is just an LLC or in English terms a Partnership. That revenue comes from advertising like the promoted tweet from ColorMetrix that was "bust into" your timeline by Twitter.
There is no such thing as a free Tweet
I get a little angry when I hear people bitching and moaning about Twitter or Facebook for that matter which are essentially free services for us endusers. The key point being for endusers. Twitter and Facebook are corporations, with payrolls to pay and server farms to maintain. I find it even more interesting that a guy who makes his living on the radio (which I assume is supported by ads in the UK as well) would attack Twitter's advertising model.
At the end of the day, I decided Danny was just having a bad day so I thought I'd send a *smile* his way. 🙂