My friend Krista's post you know you do it, too. got me thinking about what I do to turn a bad day around. Her idea is easy, just jump on Google image search and look for pictures of people or things that makes you happy and inspire you to move forward.
Google image search. I'd never really used it that much. That is until Andy at Translator mentioned recently that image search had been upgraded and he seemed pretty excited about it. Between his excitement and Krista's post I decided it was time to take a peek.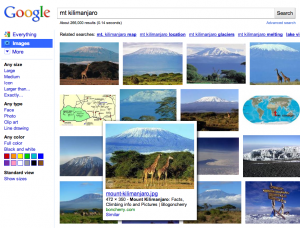 Before I'm 50 list. One of the items on the list of things to do before I'm fifty is to climb Mount Kilimanjaro. So, I decided to see what searching for that would look like. As you can see in the image above, lots of visual search results. Hovering over one of the pictures creates an enlarged pop out as you can also see above.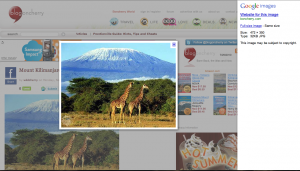 This is where it gets cool. Clicking on the enlarged image presents an even larger version of the image and the source page behind. I closed the image and was viewing the boncherry blog with all kinds of useful information about about climbing Mount Kilimanjaro.
My adventure into Google images search turned out to be fun, educational and inspiring. I've found a cool and different way to search the web visually.
What image searches would inspire you?