I'm a big ball of mush sometimes. No, really I am. Normally when there is no one looking, like earlier this evening. I had just left my oldest child's first home that is not a home we had made for her. For her second year of college, she has moved away (25 whole miles) into her own apartment. It hit me as a I walked to the car that both our stories would be changing now.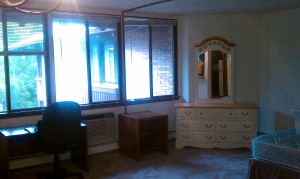 Is she starting a new story? Or, as I suspect, is one of mine ending? I think the reality is that her story is just continuing on, but my life has changed in a big way today. A way that only parents who have experienced children going away to college (or to serve in the military) can understand.
Yes, I have one more teenager but trust me, this first one, who I love with all my heart, will always be the more challenging one. She just will – she's like her Dad.
I felt a little lump in my throat as I walked out of her apartment. It hit me how fast the next several years will go. I remember many years ago a friend explaining that his daughter couldn't be getting married yet. It had only been a few months ago she was a baby in his arms. A couple weeks ago she was a girl scout. Just last week she graduated from high school and went off to college. Surely two and half decades had not passed!
Time waits for none of us. I've got a few regrets related to how I parented but there's clearly no use worrying about that anymore. My story now is to support her from afar. To be the safety net, even if she doesn't know it's there. I mean, if you can't fall back on your parents, who can you fall back on? (I'm sure that goes back to how both my wife and I were raised).
Go out of your way to make the special moments happen. The happiest memories she shares are of time spent together as a family. Normally on vacation when Mom and Dad had less to worry about.