Trade shows and conferences are alive and well. Sure they shift and change just as our lives and our businesses do. Attending the correct trade shows and conferences is an excellent strategy to find new prospects and communicate with existing customers.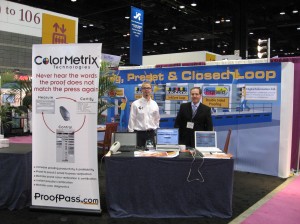 Arrive with a plan. Sounds simple enough, but by looking around at the typical show or conference it's pretty clear to me over half the attendees just "show up." Arriving at a trade show or conference with a strategy for client engagement will put you way ahead of the crowd. Here's a strategy when your goal for attending is finding new customers and interacting with existing ones.
Let your customers know you will be there. Send a blast email a week or so before the event. The nice thing about this strategy is that many will respond and ask you to set aside some time to meet. Adding a reminder to your email signature a couple weeks before the event is also a good idea. The customers you engage with most should notice you will be at the event, and may ask to meet if they are also going.
Set appointments ahead of time. Try to convert "I hope to see you there" into "Let's plan to meet for coffee or breakfast." Set appointments are easy to remember and keep track of. A list of 50 people you want to meet with….not so much.
Check vendors list. Even if you don't sell to vendors knowing who will be there exhibiting or sponsoring gives good clues about how the attendee demographic base will look. If the vendors are your customers, track down your contact and see if he/she will be there. If not try and get a name of someone who will be, and plan on introducing yourself the first day. Going wide and deep in an organization is always a good plan. Plus if they know you are there they can refer people to you. Which reminds me make sure to provide the new contact with a business card that has your cell phone number on it.
Review the attendees list. Normally this list is only available to sponsors and exhibitors at events. If the list is available, look for your customers on the list. If you don't recognize the names of those attending reach out to someone you do know within the organization and determine the attendee's roll in the organization. Again, for the reasons of going wide and deep in the organization track these folks down and introduce yourself.
Perhaps some of this advice sounds more sales 101 than marketing 101, but in a small business I think the two overlap more often than not. How about you, any trade show and conference marketing tips?