Today I experienced first hand customer service that is the exact opposite of the attitude I discussed in my Small Business 101: Yes I Can! post from a few days ago. In the course of a couple hours I heard more about how the problem couldn't be solved than how it could be.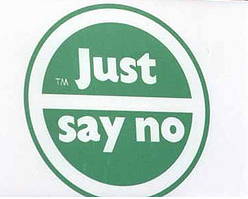 It started simply enough. My business partner (who just moved) and I work from our homes. There is a telecommunications service we both utilize and I was simply trying to get the bills consolidated and an address on one of them corrected (an address correction had already been faxed in months ago).
Call #1 – automated system attendant Hell. After navigating my way through a maze of verbal responses I was finally connected with an individual in the billing department. I explained my needs and was promptly told only sales can consolidate accounts. OK, transfer me to sales please. Nope, not that simple. He needs to check who the account manager for both accounts and make sure it was the same person. Then, he gives me the persons name and phone number and says I need to hang up and call him back. Huh? I say, you both work for the same company right? Anyway…..
Call #2 – salespersons voicemail. I leave a detailed voicemail with all the information including account numbers, addresses, etc. After waiting about an hour I am becoming frustrated because this just does not seem like that complex of a problem. I should have been able to solve it on-line or with a single customer service touchpoint not the BS cycle I now sense I am in. I also have dealt with this salesperson before and know his followup is not so hot for customer service issues and lightening fast when there is a new sale involved.
The bright spot in the whole thing. I jumped on Twitter and pinged the customer service account for the telecom giant involved. Almost instant response. They asked me to email the details of the problem. I did and they informed me that the email was forwarded to various people in the organization including my salesperson.
Call #3 – salesperson returns call. Then, magically at 5:02pm the salesperson miraculously has time to call back. I'm unfortunately away from the phone but he leaves enough of a message to indicate that he can't combine the accounts because they have different names on them. Huh? I have both bills in front of me and the company name is on both. My name is simply a c/o on one of them. I return the call but alas it's after 5pm so he's gone now (I called back within 1 minute).
Call #4 – automated system attendant Hell (again). I get a fairly nice gentleman who's throat I jump down (yes, I blow my top sometimes) and he is patient enough to understand my frustration (I got the idea I'm not the first pissed off person he's talked with today). I suggest I need a supervisor and he arranges that. It takes so long I hang up. The supervisor actually calls me back and this impressed me somewhat as a flagrant act of customer service.
The culture. It's clear to me as I talk to the supervisor that this is just the way it is in the giant telecom company. No single touchpoint can solve a complicated problem like a change of address and consolidating two accounts (catch the sarcasm? I hope so). I explain that I heard a whole lot of "No, I can't do that" over the course of two plus hours and almost no "Yes, I can!" He says I won't offer any excuses but I will take care of the problem now.
The resolution. There is none as of now. The supervisor took all the information necessary and promised to dig into it first thing in the morning when all the resources are available. He suggested it could take as long as forty eight hours to get all the appropriate departments involved. No, I'm not making any of this up.
There's a lesson in here for companies of all sizes. Employ KISS (Keep It Simple Smarty-pants) in your customer service model. Imagine how this blog post would look had the first person I talked with been empowered to solve the problems I had. Or better yet had there been an on-line system to manage my own account. It's amazing what I can do on-line with my account at Sprint.com (not the telecom we are talking about).
I don't know about you but if anything like this happens in my business I'll look at the situation as an opportunity to improve my customer service. What's your take?