This is not a post about material possessions. It's about me not trying to fix you and you not trying to fix me.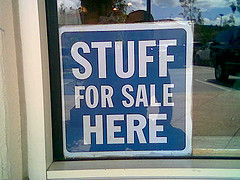 Know those times when I'm really tired, cranky, hungry, withdrawn? Yes, you know what I'm taking about because it happens to you too.
Here's the deal. Think about how you are feeling when you are going through one of those periods.
You probably know what's wrong. You are probably already using whatever tools you have at your disposal to make the situation and your mood better.
You know I can't help you and me asking you what's wrong or what I can do to help….well it probably doesn't help at all.
Worst of all. If you think you caused my "mood"….guess what? You didn't. We are all responsible for our own moods. It's just that simple.
Let me own my "stuff" and I'll let you own your "stuff." We simply can't fix each others "stuff" and for the most part can't help each other with each others "stuff."
This can be a simple yet complex subject if we let it be. Any thoughts to share about owning our own stuff?