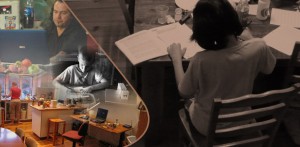 By now you may have heard that my friends Joe Sorge and Chris Brogan have started Kitchen Table Companies. Kitchen Table Companies is a community for small business owners doing business the old fashioned way – around the kitchen table. Chris started there, so did Joe and hey guess what? – me too! I even left the kitchen and opened an office only to return to the kitchen table a decade later.
Small and lean is not just for startups
I think there is a common misconception that a bigger business must be a better business. For me at least, nothing could be further from the truth. Personally, I'm having more fun and making more money than I ever have. I have no employees, just a business partner. Sure, there are several independent contractors helping us out and, by the end of the year, we may have a couple employees again; but we'll be staying small.
Small can be defined a bunch of different ways. Richard Branson runs the multi-billion dollar Virgin group as a series of 300 smaller companies. I like his model – a lot. I'm pretty sure Joe and Chris share this vision as well. The customer experience is always first and the individual business units must stay small enough to always put the customer first.
That, my friends, is what Kitchen Table Companies is all about. Behind the pay wall (yes there is a cost to be a member of the community) is a wealth of learning resources and awesome folks with which to interact. Just yesterday, I listened to Chris interview Joe about the secrets of his restaurant business success in Milwaukee. I know Joe pretty well and have shared a burger with him on more than one occasion. I still walked away from the audio program with a bunch of great takeaways. The two of them should also do a comedy routine, as I burst out laughing several times.
What you get inside KTC
Inside the community is a rapidly growing group of folks I really enjoy interacting with via the forums. For example, Joe is emailing us a question each Monday morning. It's a thought-provoking question that gets one thinking about their own business. The question by itself is pretty darn valuable. Taking the time to answer the question in the forums and then reading the answers and replies of others just expands the value.
I have also found a few new accounting options for business and personal finance. One of our members is a small business accountant and gives freely of herself in the forums. Ask a question and she will answer. How much would that call to your accountant cost? Obviously, deeply specific questions should be saved for your accounting professional. I was just looking for an easy way to keep track of the JimRaffel.com ventures part of my business life.
There seems to be a lot more coming. There are learning tracks and interviews uploaded on a regular basis. You can also participate in the weekly KTC live broadcast over at The Pulse Network. There is a place in the forums to submit your questions before the show. How cool is that to get answers to your questions from business gurus Joe and Chris?
Obviously, I like these two guys a lot but, trust me, I wouldn't write this post as I have if they hadn't worked their butts off to put together a worthwhile offering. My suggestion is to head over to KTC and see for yourself.
Authors Note: Currently I have no affiliate relationship with KTC but have been provided a complimentary membership.