When I switched from the htc EVO 4G Android to the iPhone 4S, one of the features I missed almost immediately was turn-by-turn GPS navigation. Out of the box, the Android device had a clear advantage because the version of Google Maps for Android includes access to the beta version of Google's turn-by-turn voice-assisted navigation. Apple and the iPhone 4S have no such feature available when a new user first powers up their device.
Why turn-by-turn navigation is important
It's almost inevitable that at some point you will need to find your way to a location you have never visited. If you know this ahead of time, you can do the research and print the directions for free at home using Google Maps, Mapquest or other equally qualified services.
If a significant percentage of your working life is spent on the road as mine is, having turn-by-turn GPS navigation at your fingertips is a huge time saver. Your entire trip may be planned out ahead of time but then a client asks you to join them for dinner. Now you're trying to find your way in the dark to a restaurant you've never visited. Turn-by-turn GPS navigation with voice prompts is your rescue.
The contenders
Once I realized the iPhone 4S built-in navigation was somewhat limited and had no voice prompts, I started looking for apps to fill this void in my Android to iPhone transition. First, I want to mention an option I have not yet reviewed but others have liked. It's called Waze and you can find more information in this LifeHacker post. I probably won't look too closely at it anytime soon. The reason for that will unfold shortly.
I chose to review Telenav and Mapquest 4 mobile. The glaring difference between these two apps is cost. Mapquest 4 mobile is free while Telenav is $9.99 a year for turn-by-turn voice-assisted navigation.
Free isn't bad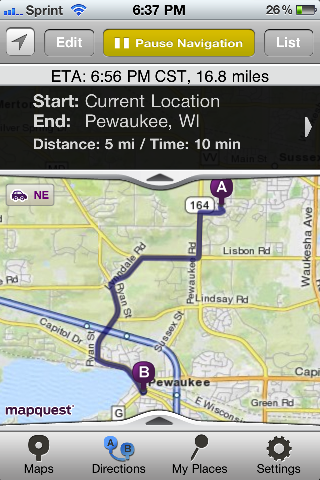 Like most of us, I'm not a big fan of spending money superfluously. So I decided to review one of the free the turn-by-turn GPS navigation apps. Some different sources pointed me toward Mapquest 4 Mobile and I was not disappointed. However once I tried out Telenav, that opinion changed.
I did most of my app testing during a recent trip to the St. Louis area. My trip began with a drive east from the St. Louis airport to Centralia, Ill. I used Mapquest 4 Mobile to get there and it worked just fine. I even made a wrong turn and it got me back on track. I was not completely thrilled with the process of getting the address entered and starting navigation. The user experience leaves a bit to be desired in several areas.
First, the buttons are often small and difficult to find on the screen. Next, I'm not a fan of the size and scale of the map that ends up being displayed while you are driving. Some additional screen real estate can be gained by hiding your next turn instructions, but still the scaling and lack of a 3D view is somewhat disappointing.
Remember though that this is a free app. If you're only going to be navigating occasionally, Mapquest 4 Mobile is probably all you need.
Paid is better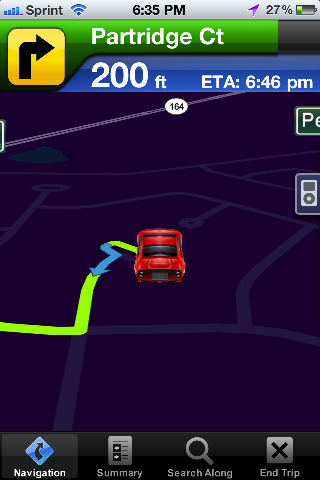 I've been a Sprint subscriber forever. Sprint has used Telenav to power Sprint Navigation that I've had free access to for about three years. My positive experiences with their turn-by-turn voice-assisted navigation are why I decided to take a look at Telenav for iPhone. The interface remains clean and easy to use. I never find myself struggling to figure out what to click or how to continue the navigation process.
The voice prompts are clear and honestly I hardly ever need to look at the iPhone while driving. I trust Telenav to give me plenty of warning and clear instructions when it's time to make a turn or exit an expressway. When I do need to look down at the map, I find a big, well-scaled image making it easy to clarify the directions.
So while Mapquest 4 Mobile would probably get me by, I'm more than willing to pay for quality. In this case, the turn-by-turn voice prompts only ended up costing me $10 for an entire year with Telenav. That's well worth it if you're a road warrior like me.
If you have experience with either app (or others), please feel free to jump in the comments and share your thoughts.