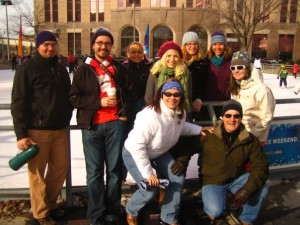 I've got this friend named Twitter, she's pretty much awesome. Even awesome friends push you away sometimes. It's OK, she's in my inner circle of friends and in no time we'll be best buds, hanging out together again.
While Twitter and I "take a break" I've got this other friend LinkedIn. Oh my gosh he is the be all and end all for connecting me with the folks I do (and want to do) business with. This whole time Twitter and I have been figuring out we needed a break, LinkedIn has been whispering in my ear about all the great stuff he and I can do together. Turns out he's one smart dude and now that he's in my inner circle, we'll be spending more time together.
Then, there's my bi-polar friend Facebook I can't decide if I love her hate her on any given day. She connects me with friends I have not seen or heard from in a long time. She even shows me pictures of them and their children. So, she helps me keep track of friends from the past – pretty cool really. Well, it would be but some of them play Mafia Wars and never was a more annoying "game" ever invented. Yes, yes I know how to block and filter the parts of Facebook's personality I don't care for and I do. The real problem is she frequently changes the terms of our relationship and it all feels very one sided. I'm not so sure she's in my inner circle of friends.
Finally, there is my therapist and business advisor. His name is Third Tribe Marketing. I pay him to be my friend and I'm OK with that. I sure don't visit my Doctor seeking advice on my health for free so why should sound business advice and ideation be any different? When Twitter pushed me away I went and spent some time conversing with Third Tribe. He runs a lot of group therapy sessions so I was actually conversing with other people just like me that had come to see Third Tribe(affiliate link) for similar reasons. Sometimes I'm helping them and sometimes they are helping me. Sounds pretty win-win doesn't it? Third Tribe Marketing is at the center of my inner circle of friends.
I've gone back to Twitter but if you follow me there you will see my activity is far below what it was for a while. I'm finding the two way benefit to be more apparent in Third Tribe and on LinkedIn. For me Twitter is fun to hang out with if I am looking for the next networking meetup or want to see what kind of information(links) my friends are sharing. Trending topics become clear pretty quickly with Twitter as well.
Any feelings about my "friends" you'd like to share in the comments?