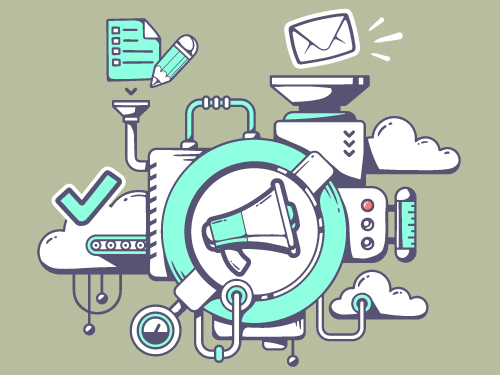 I recently recorded an episode of our new DyeSubCast podcast with my colleague Vik Patel from Sawgrass Technologies. During that conversation, Vik kept coming back to the phrase "ingredients matter."
In the context of our conversation, Vik was talking about the raw materials being used to create a dye sublimation decorated product. He's right; the quality of the printer, ink, paper, heat press, blank product to be sublimated, and a whole host of other details have great impact on the quality of the finished product.
Ingredients matter in your content diet.
What are you reading? What are you watching on TV and your other devices? Are you listening to podcasts and subscribing to email newsletters? What does all that content do for you? Is it improving your life and making you happier and more successful?
If you answered no to that last question, then it's likely time to change the ingredients in your content diet because they matter.
People are part of your ingredients too.
This one may be tough to hear; but the people you associate with are part of your content diet. They are part of the ingredients. Are those people positive and upbeat while still being grounded in reality? Or are they constant naysayers? I once wrote about the 5 people closest to you defining who you are. That post is as true today as it was many years ago. Perhaps it's even more appropriate in Covid-19 times as our circles have become pretty tight and we try to stay in our bubbles.
Pick new ingredients.
I'm going to suggest you do this slowly. I've written several posts about making changes to your social media diet. I did that and it's been helpful in my life. Through those changes, I've also been exposed to several new content sources and find them to be enriching my life on a daily basis.
Here are two from a husband-and-wife team. I suggest taking the paid option on both, but that's up to you.
Anthony Pompliano: The Pomp Letter
Polina Marinova Pompliano: The Profile
Here's an informative and fun free email newsletter to start your day: The Morning Brew
Books – Are you reading novels? I mean, that's okay, I do too; but how about working in some other material – some professional development and maybe some spiritual development too.
The point is to change up the ingredients you are putting into your brain in hopes of changing how you view the world.
I've come to believe the world is an okay place when my perception isn't all messed up. One of the ways I keep my perception in line is to closely watch the ingredients that go into my daily mix of content consumed.