Setting out to produc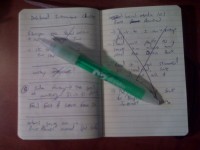 e 31 posts in the month of March has resulted in the unintended consequence of turning me into an idea factory.
Napoleon Hill wrote about the importance of ideas in Think and Grow Rich. His premise, which I share, is that you become what you think about. I think about helping others and being successful and that is what my life has become.

This is a picture of one of my Moleskine notebooks. Everyday I have enough thoughts and ideas to fill at least a page or two. Strangely the one and two word ideas generally turn into the best blog posts. "Best" being the ones you guys choose to comment on the most.
The brain needs exercise like other muscles and practice makes perfect. Everything around me provides inspiration for blog posts. Sometimes it's the blogs of others that I try to spend 30 minutes a day reading. Other days it's walking into a brand new Hampton Inn like I did last week and wrote about the importance of sharpening the saw regularly.
Something sparks the creativity in all of us. Over the last 25 days I have gone from often struggling for an idea to write about to having to decide which of the six or seven ideas I had today will will make the cut. I find it helpful to let the good ideas age for a day or two before writing the post. Letting your subconscious work on an idea you have committed to paper is a way to filter the great ideas from the not so great.
Ideas are everywhere you just need to shut your mouth then open your eyes and ears. For example, today while struggling with the tuning and tweaking of the server this blog resides on I was able to call my blogstorming buddy Steve Duncan. Without community and social media tools like blogging and Twitter Steve and I would have never met. There's a blog post in that story that I may or may not end up writing but I can see it, can you?
Ideas are important to everything we do. Where do your ideas come from? What sparks your idea factory?