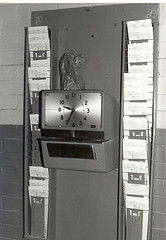 I don't have a job and haven't for more than fifteen years. I do work and quite often I'm working my butt off. I network, I hustle, I sell stuff, I juggle money and all the other crazy stuff small business people do. Trust me it's nothing like a job.
How do I know? Well, if all goes according to plan you'll be reading this post on a Friday. It was, however, written on a Monday. Last night and this morning I watched dozens of my friends with jobs bitch and moan that Monday was coming and how much they hate Monday. Sorry, I don't hate Monday. Actually, I love Monday, it's the first day of a new work week. There's always good work to be done and I love doing the work.
There's no time clock. Recently my wife (who does have a job) was informed by her employer that they would be punching a time clock again. W Tee F! Really? You have got to be kidding me, or so I thought when I heard this. Nope, granted it's a virtual time clock that she logs into on her computer each morning. Her computer that takes several minutes to boot up because she has been instructed by IT to turn it off each night. I'm pretty sure everyone reading this gets the double insult that is.
My energy is focused on work. This Summer I've been driving my wife to work frequently. As we drive she's watching the traffic lights, the traffic in each lane, the over passes of the freeway ahead, listening to traffic on the radio….get the picture? Expending great deals of energy to make the trip to work as quickly as she can. Imagine saving that brain power for work, that my friends is my life.
It's not all wine and roses. I do travel frequently and my life on the road is pretty crazy. If you travel you know what I mean and if not trust me on this one. That time on the road is as close to having a job as I get. On the road I have a fixed schedule and places I need to get to and from. It takes a lot of energy and I end most travel days exhausted. When I'm not traveling I work all day but it never feels like work. I work the projects that need work in the order I feel is best. No time clock, no set schedule. Yes, somedays I work 12-16 hours (really). Other days I work four (yes, really as well). All depends on my energy level and what needs doing. What it never depends on is punching a time clock – thank God.
So, this weekend give some thought to whether you are working my way or the job and time clock way. I'd love to hear your thoughts.