If you're wondering why we are posting our "She Said, He Said" series a day early this week, it's because we are beginning a transition that will move "She Said, He Said" to a new website under our new venture SheHe Media. We will unveil the website during #shehechat on Twitter, which will occur at its normal time this week Thursday at 8 p.m. CST. Make sure you're there for the unveiling!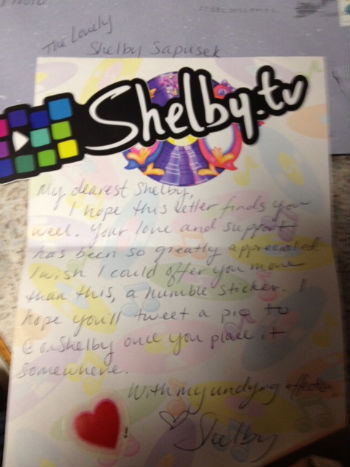 Yesterday, Jim shared his experience with ZippyKid and how this company personalized and humanized customer service through social media. Coincidentally, I had a similar experience last week with another company that I'd like to share.
Maybe it started with the name …
I originally reached out to Shelby TV (@onShelby on Twitter) because … well, okay, because of the name. Shelby TV is a service that collects videos from your friends and followers in your Facebook and Twitter networks and posts them all in one convenient place.
Once I learned what Shelby TV was about, I was invited to try out their beta site. I liked what I saw and retweeted some posts of videos from the site in my own stream. Several months later, Shelby TV has become more popular. I'm seeing more and more videos shared by others in my Twitter stream from the Shelby TV collection.
How to be human
I've had interactions via Twitter with Shelby TV off and on for months. A few weeks ago, they simply asked for a retweet of a video post for a chance to win a Shelby TV sticker. I would have retweeted it anyway because I already had a relationship with this new company and wanted to see them do well. However, I won't lie and say I wasn't tickled to find out they would be sending me a sticker.
I expected the sticker in the mail but was thrilled with the handwritten note I received along with it. When I saw it, I thought, "They get it. They really get it." When I say that, I mean that they get how to humanize and personalize their company, which is something I valued at a young age.
Even a 6-year-old gets personalization
When I was a little girl, I didn't like my first name. I remember my first day of school when my teacher assumed that "Shelby" was a typo and insisted on calling me "Shelly" instead. It took me nearly a week to convince her that I was really a "Shelby."
In that first year of school, I was surrounded by Jennifers, Lisas, Amandas and others with fairly common names. Those girls had pencils and lunchboxes with their names printed on them. I was jealous. I spent months during shopping trips with my parents looking for something … anything … with my name on it. I came up empty. While I couldn't come up with the word in my 6-year-old brain, I wanted something personalized too.
I don't remember vocalizing this wish to my parents but I must have done so. For Christmas that year, they gave me a black backpack with my name stitched into it in purple lettering. It was my most precious gift that year and I couldn't wait for break to be over so that I could show it off at school. It was mine because it was personalized just for me and I couldn't have felt more special.
 Christmas morning all over again
What Shelby TV did with the handwritten note and sticker through the mail made me think of the 6-year-old me in pigtails that Christmas morning when I received the backpack with my name on it. I was as giddy the day I received the letter as I was back then. It was because Shelby TV made me feel special and valued. Isn't that what customer service is about?
Unlike Jim's experience, I'm not paying Shelby TV a dime for their services. However, they have already received payment from me.
The day I got the letter, I texted a picture to a friend and tweeted the picture I included with this post as well as a picture of the sticker placed prominently on my laptop. Later that day, I watched people retweet it with messages such as: "This is how you do customer service." This week, I was visiting a client and the first thing they noticed was the Shelby TV sticker on my laptop and asked me about the company. Let's not forget that they helped inspire this blog post as well.
What did all this cost Shelby TV? A few tweets? A postage stamp? A sticker? Time to write a four-sentence note?
You can't put a price on humanization and it's even more important now that we sometimes live almost exclusively in the online world. Remember to take your business experiences offline once in awhile and you'll see that they will make it back online for all the world to see.