Why yes, we are posting our "She Said, He Said" series a day early this week. We are beginning a transition that will move "She Said, He Said" to a new website under our new venture SheHe Media. We will unveil the website during #shehechat on Twitter, which will occur at its normal time this week Thursday at 8 p.m. CST. Make sure you're there for the unveiling!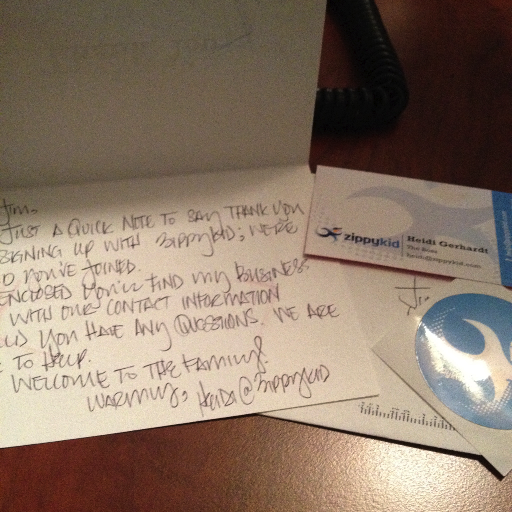 When is the last time you got a handwritten thank you note from an online business? I received one last week and the picture with this post is of the note and fancy sticker ZippyKid sent to me along with the note. What's unique about this experience is my relationship with ZippyKid started on Twitter about a week earlier. However, I'm getting ahead of myself. Let me start at the beginning.
I asked a question online
After making the decision to move all my WordPress sites to a managed hosting provider in 2012, it was time to start looking for a great one. I knew of a few and even signed up with one (not ZippyKid) before realizing I needed to get more feedback and recommendations than a Google search had provided. I've since had to cancel service with the initial provider because their support services just didn't live up to what they were billed to be.
So I threw the question out to my Twitter community and within an hour had several recommendations and suggestions. After engaging with ZippyKid, I decided to give them a try. One reason I chose them is that they host with Rackspace, which I utilize on the ColorMetrix side of my business. I know the quality of Rackspace firsthand and sometimes guilt by association (or social proof) can be a good thing. Another factor that swayed me is my perception that ZippyKid has someone managing their Twitter account who knows the business inside and out. This person is not just a social media manager; but a team member who happens to also handle social media.
Signing up
Within minutes of signing up for the ZippyKid server, our test site was up and running and I had a few emails explaining the next steps. Over the next few days, I commenced to set up the site and exchanged numerous support emails with the ZippyKid crew. All were answered within an hour or less. They clearly live by the motto: "The answer is yes, now what's the question?"
During this process, ZippyKid reached out to me on Twitter to ask if everything was going smoothly. I thought to myself, "Sales/customer service follow-up in the online world? That's virtually unheard of." I decided they are just one of those rare online service providers doing it right.
The offline surprise
About a week after signing up, the hand-addressed envelope showed up in my mailbox. It was the holiday season so I thought it might just be a straggler greeting card. I did wonder for a minute who I know in San Antonio. When I opened the card, I was downright shocked. Then I became pleased as I realized I had picked a human company that understands engagement is not just an online game we play. It's real connections with real human beings.
Taking it back online
If you know me, then it comes as no surprise that when I receive downright crappy customer service I'm the first person to share that experience on Twitter. If it's really bad and I feel there is a lesson in the mess, I'll even blog about it. Well, fair is fair, and when someone engages in an act of exceptional customer service and engagement, that should also be recognized.
I took the picture you see with this post and shared it via Instragram, which means it also posted to Twitter and Facebook. Instantly, their offline communication had resulted in an online endorsement to potentially thousands of people. Then my partner in crime Shelby Sapusek tweeted out, "Hey, no fair I want a sticker!" You can probably guess what happened next. ZippyKid jumped into the conversation and offered to send us a bunch more.
Online or offline, keep it human
If you have a good product, then this story is just loaded with ideas to turn your current happy customers into raving fans. Then they will spread the word with online and offline engagement, and you too can grow at the 60 percent month over month rate ZippyKid is reporting on their blog. I should add that this growth resulted from almost entirely word of mouth.
If this was two decades ago and I was still earning an MBA, Vid Luther and his team at ZippyKid would have been a case study to write and be studied.
Author's Note: I let ZippyKid know I'd be writing this piece and they offerred up a coupon code so you can try them out for 30 days FREE. Just enter this very catchy coupon code when you are signing up: JIMRAFFEL (and yes, after the 30 days I'll be participating in their affiliate program so I will be compensated if you stay with them).