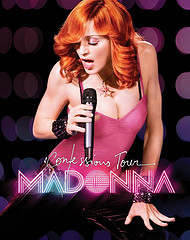 Why are folks so impressed that Madonna at "her age" has remained relevant for the better part of 30 years? Sure, audiences in the entertainment industry can be fickle, but don't we all face the challenge of remaining relevant in our chosen careers? Last night, I watched her performance during the Super Bowl and then watched my Twitter stream to confirm that she's still got it. Not everyone loved her show, but people of all ages and background connected with her performance.
What Madonna does that you should be doing
When I hear someone referred to as "being relevant," it makes me think that they are "in touch" with the contemporary times and technology. My mom is in her – oh wait, I'm 47, so you figure it out – and she still embraces new technology and keeps up to date on current popular culture. That helps her remain relevant or in touch with her grandchildren who range in age from their late-teens to early 30s.
That's what Madonna does. She doesn't produce the same kind of art today that she did 30 years ago. She doesn't put on the same kind of concert she did 30 years ago. She watches contemporary culture, and last night included current popular artist like Nicky Minaj, Cee Lo Green and LMFAO in her show. She watches contemporary technology and she embraces it. She writes songs that are relevant and in touch with the times. She wears fashion that is on the cutting edge of whatever is "in" and "hot." She choreographs dance moves that old fans are impressed with that she can still perform and new fans will just see as "in." Sure in her early 50s she's not as flexible as she used to be, but she still gets out there and does what needs to be done.
She's not a one-hit wonder. In 30 years, she's put out some work that I'd have to say is not so great. We'll just call those mistakes made along the way. She didn't quit or go back to writing the music that started her career. Instead, she studied what was going on around her and gave it another try. She puts in the time, she studies, she practices and she trusts her own instincts. She also knows when to pull out the songs that are timeless as she did last night with "Like a Prayer."
How you can model Madonna's success
I've been working the better part of 25 years in my chosen profession. I'd like to think I've remained relevant and in touch with the times. I certainly don't work the same way I did 25 years ago, and I hardly recognize the industry in which I work. You are probably already doing many of the things it takes to remain relevant and in touch. Below is my incomplete list of what works.
1. Read trade journals and other literature specific to your chosen profession.
2. Follow news sources that focus more on trends and technology and less on sensationalistic stories of the day. The Wall Street Journal is a good example of this.
3. Spend time with people different than you. Surround yourself with people outside your comfort zone. I made a commitment to do that about three years ago and the richness of my circle of friends increased dramatically. Along with that comes a better understanding of what makes people tick.
4. Each January, look at what you are doing in your professional life. Resolve to stop doing some things so that you can devote time to learning new things. For example, we are dropping a whole product line from one of my companies. That will free up time to make a more successful product line better. In the short term. that costs us some sales. In the long term, it should make us more relevant and in touch.
5. Don't coast. There is no such thing as a cushy job. There's nothing wrong with downtime and scheduled breaks. However, make sure they don't last months or years.
What are you doing to remain relevant in your chosen career like Madonna is doing in hers?