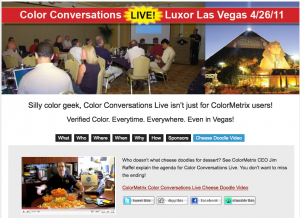 This is the first co-authored post by Jim Raffel and Shelby Sapusek. Together, we'll give you some insight on why we chose the WordPress plugin Premise (affiliate link)from Copyblogger to design the ColorMetrix User Group Meeting landing page, what we liked about it and some advice from our experience with it. To fully understand this post, you should visit the landing page we created.
Why do you need a landing page?
Jim: "A landing page helps you promote a one-off event like our ColorMetrix User Group Meeting or a new or updated product or service. It allows you to share a new message that you don't want to get lost in the clutter of your website. In general, a landing page is a great tool to use when you have a focused call to action. They are a great way to get your readers to do one thing and one thing only."
Shelby: "In the world of the internet, landing pages have started to make a lot of sense to me; especially if you're selling something. Catchy headlines and smart copy within a quick-hit format can capture the attention of visitors and draw them into your site by making them want to learn more. This is the promise of Premise."
What's the advantage of Premise?
Jim: "It's a single easy-to-use interface to build landing page. All the tools necessary are included in one place. This includes six basic page layouts, copywriting advice specific to each of the page layouts, a graphics library, as well as seminars on how to build effective landing pages. Finally, it integrates seamlessly with our SEO tool Scribe."
Shelby: "When Jim first showed Premise to me and asked if I thought it was worth the investment, I admit that I hesitated. Premise offers several different landing page design styles. I thought: But we can put together a pretty decent web page ourselves, can't we? Premise also includes copywriting and SEO advice. I thought: Jim's a writer; I'm a designer, writer and editor and we already have some decent SEO tools. Then, I realized that although we have all these skills and tools, Premise gives you everything in one nicely bundled package with a specific focus on landing pages."
Is Premise easy to use?
Jim: "I can only speak to ease of installation and configuration as Shelby has done all the design-related work of our first page. Signing up was a breeze. Then, a series of emails walked me through the steps to download, install and configure Premise. It integrates into the WordPress sidebar and while there are still a few glitches, I am confident the CopyBlogger team will sort them out quickly."
Shelby: "Premise integrates nicely within your WordPress site. If you design in WordPress, you can figure out Premise without too much difficulty. However, it should be noted that Premise is in its initial release right now so not everything works perfectly."
Does Premise keep its promise?
Jim: "Yes, for a fairly modest investment one is able to have impressive landing pages up and running in relatively short order. My one caution would be that good copywriting is still good copywriting and takes time. The advice Premise provides is great, but you still need to write the copy appropriate to your page."
Shelby: "Yes, but make sure you keep your promise to your company too. I reviewed all of the landing page options in Premise and thought carefully about what our company's page needed to accomplish before I dived into the design. There's always a learning curve when using new tools so building this first page took some time. However, the end result was a simple but effective page and was worth the time put into it."