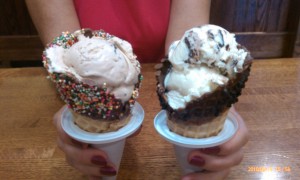 Sometimes giving a free sample of your work away now, results in more business in the future. The tricky part is recognizing the opportunities worth pursuing with this strategy.
The ice cream shop. Yesterday being a hot Summer afternoon my wife and I stopped by the ice cream shop to end our day. They had a new flavor and it looked good. They gave me a free sample on one of those little spoons. It was delicious and I went with that flavor (in a chocolate dipped waffle cone). Admittedly, I was in line to buy ice cream so it was unlikely I'd leave without making a purchase but nonetheless that free sample was free with no assurance they would sell me more.
I had a deal slipping away. The deal was all but done and finance pulled the plug until next quarter. These things happen. In my experience, however, it dramatically lowers the potential of ultimately closing the business. I worked together with my future client to install a free sample version of our product complete with some of my time. Now, two things happen. First, together we can prove to management the financial return on investment we know exists. Second, we will write a white paper. The white paper will then be presented at future industry events. Everyone wins.
What can you give away? I'm not speaking of blog posts and things like that. Many of us already gladly give these away. Something of more value. I have a friend who does human SEO work and is darn good at it. If business is a tad slow, perhaps she could offer to do a free sample evaluation that demonstrates to the potential client how valuable human SEO is over automated systems. In exchange, the client writes a blog post highlighting the benefits. She could then point to the post as social proof that her assertion is true.
Business is a value exchange. Ultimately, most of your business needs to be the exchange of your goods and services for money. There are, however, other items of value you can ask for in exchange. A blog post by a third party (with the appropriate disclaimer that the service was provided for free) is an excellent selling tool going forward. Depending on the web-site involved the advertising value of the post could be will into the thousands of dollars.
Do you have any value exchange stories to share? Do you think the above approach makes sense?