Recently I observed two flagrant acts of customer service and was surprised how little each person did, in my opinion, to be amazing. In both cases the service providers did what they did on the fly with no prompting or script. It came from the heart.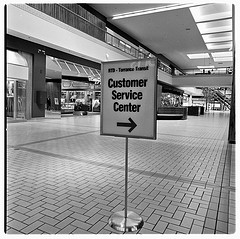 Free advertising. While listening to an afternoon drive radio show the other day, the host asked his producer, "who's the sponsor of the PGA Tournament Report today?" Turns out there was none. The host, Jerry Bott, is actually the station's program director and was filling in for the regular DJ. Being fast on his seat (bad pun, sorry) and looking out for his customers (advertisers) He spent about 30 seconds plugging Flemings Steak House, a new advertiser with the station.
Priceless goodwill. Can you even imagine being the person at Flemings who made the decision to buy the ad and how good you would feel? Not a paid ad but an endorsement from a guy with a reputation for eating good food and enjoying fine dining. How can you promote your customers with your audience? I know I'm looking for ways to do so.
Free smiles. I was headed to a grocery store that my wife and I avoid shopping at, for all but the shortest list and then only because it's close to home. The prices are high and the staff is normally not too friendly or helpful. My checker on this particular evening was all smiles and happy. She went out of her way to ask if I'd found everything I was looking for. I was blown away. I left the store thinking, I'll be paying attention the next few times to see if it's an isolated employee or if maybe management style and hiring has finally changed.
Changed attitude. Smiling and asking if a customer's needs have been met costs the store nothing. They, however, gain a customer leaving with a warm fuzzy feeling and in some cases even results in a blog post about the Pick'n Save in Sussex, Wisconsin.
It really is the small things you do to make a customer feel special.