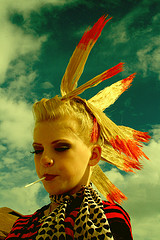 Find the fun in everything you do. Life is just that simple. For months now I've been watching the people around me I consider most successful. They laugh, they smile, they joke about almost everything. Yes, even the serious stuff.
Yesterday the 10-12 hours a day I work and the ever increasing to-do list bummed me out. Today I am thankful that my hard work, supported by those around me, over the last six or so months is starting to pay off. Seriously, how fun is it to wake up and not ask "what am I going to do today," but instead "what am I NOT going to do today."
Socialization is my fun. I love people. I love being with people. I'm a social butterfly. I spend a great deal of my working life in self-imposed isolation. Huh, are you nuts? Perhaps I am. I'll be working on changing this over the coming months. Today I went and met my business partner and a customer who had come to see him for technical help. Best decision I've made all week.
My customer had not spoken with a mutual friend in almost 18 months. They used to work together and speak on the phone almost daily. They consider each other friends. I texted Kevin and told him who I was sitting with. He said he missed Mike. I texted back – call him. Kevin said he didn't have Mike's number. I texted that and Mike's phone rang. The smile on the other side of the table is giving me goose bumps now, hours later. If that's not fun I don't know what is.
What you consider "fun" is what you're best at. The fun activities are the ones you can become the best at. These are the ones you can rise to the top of the game at. All the other stuff, mediocrity is your best case. My efforts and focus have been moving me towards this conclusion for a while.
Speaking, writing, inspiring others. That's where I find fun. When I'm doing these three things there is no work. It's effortless. I have not struggled to write a blog post in months. Prepping to speak is cake compared to the old days. It's FUN! Finding time to write or prep for speaking can be torture at times but not the actual acts, not at all.
Where do you find fun? Hint: don't confuse fun with feel good escapism. Been there done, that, it's not the answer.
Photo Credit: http://www.flickr.com/photos/pinksherbet/3216056902