Recently I had the pleasure of attending Mike Rohde's Milwaukee Likemind presentation on Sketchnotes. You can see my first attempt at Sketchnotes in the foreground of the picture with this post. I've tried sketchnotes a few times since and found real value in capturing notes this way.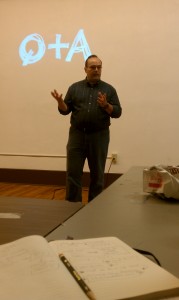 Doodling. For whatever reason, holding my attention in a long meeting is a challenge. I've always taken notes because I could be doodling aimlessly in the margins of my notes. Taking notes the Sketchnotes way allows me to doodle with a purpose. I now draw keywords in large type and then instead of doodling, I color in the letters when I find my mind drifting. Strangely enough, I find I listen more carefully while my hands are busy coloring.
Conversation Starter. I was doodling with a purpose at a recent client meeting. During a break in the meeting one of the attendees asked what I was doing. I shared a bit of information about Sketchnotes and then he was kind enough to share this Harvard Business Review article Vision Statement: Tired of PowerPoint? Try This Instead. The graphic at the end of the article looks a lot like a colored in Sketchnote to me.
Easier to review. In looking back at the four pages of notes I took at that all day meeting I am stunned at how easy it is to recall the whole meeting. The key themes of the meeting that resonated with me are all in large colored in type. I have bullet points and little drawings all over. To me it makes perfect sense. The notes also flow like the meeting did and contain some arrows connecting points made hours apart.
Thinking on paper. For me it's more about thinking on paper in a different way. As I mentioned, the doodling (coloring in the letters) seems to focus my mind on either a speaker or what I am thinking about and trying to work through. So this doodling with a purpose is just more fuel for my creative engine. Another tool in the tool box so to speak.
Do you make use of the Sketchnotes style (or something like it)? Is so take a few moments to share your thoughts and experiences in the comments.