A solid email list is pure gold. Promoting your blog via social media channels is great but locks you into the subculture. Everyone's email list is different, mine has been built over fifteen years with several different and effective methods.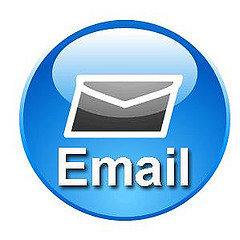 Don't get trapped by the social media subculture. I read Tom Snyder's recent 10-4, Social Media – We Got Ourselves a Convoy! with great interest, as I was part of the CB radio subculture. I recently had dinner with Tom and we talked more about the realities of subculture vs. mainstream on today's world wide web. That's when it hit me that my email list extends far beyond the social media and community subculture.
Email lists can more easily represent the mainstream. I began building my list fifteen years ago when colleagues began to include their email address on business cards. I didn't realize I was building an email list, it was just another piece of information the CRM I was using at the time allowed me to collect. Today my personal list numbers more than 1000 and I have met almost every one of you in person at some point in my business travels.
Collect the addresses carefully. Fifteen years ago I collected the addresses the same way we collected phone numbers and physical addresses. There was no legislation requiring some form of opt-in for you to use the address. Now there is, so please do your homework and be careful how you collect and utilize email addresses.
Don't forget email. Maybe it's because you have to be so careful how you collect and use the addresses now that many ethical marketers underutilize this medium. For a while earlier this year I was sending out two newsletters a month to my list. The traffic bumps after those newsletters went out was measurable. (Tripling average site traffic for two to three days.) It's because I reach a different audience with the newsletter list than my social media sharing reaches. The list reaches beyond the subculture to the mainstream.
By the time you read this post about a week from now I will have released a newsletter (my first in several months). If you would like to receive future newsletters, then join my newsletter list.