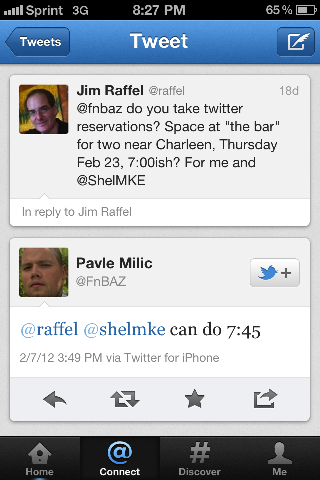 I've struggled with how to write this post. The title is my way of letting you know that I am not the white hat in this story. In fact, I was an arrogant, tired, hungry and road-weary business traveler who misused my social media megaphone. I'm willing to admit that for two reasons: 1. It's true and 2. This is a story of two wrongs somehow turning out right.
The back story
I've visited FnB one time about a year ago when I was in Phoenix for WordCamp 2011. A fellow attendee found out I was staying in Scottsdale and she said that I had to have a meal there if I could get in.
I visited FnB later that night and was able to obtain a coveted seat at the bar. It's not really a bar. The area behind what looks like the bar is about half the kitchen and you get to watch the food being cooked over open-flame grills. It's truly an amazing customer experience when combined with the quality of food and service that is delivered. I walked out in awe knowing I'd found a very special restaurant I would try to dine at on all future visits to the Phoenix area.
Twitter for good and evil
The image with this post illustrates just how powerful and useful Twitter can be. I was able to make a reservation at FnB, a restaurant I consider to be one of the five best on my list. I thought I had made a reservation. Like all of us running thriving small businesses, Pavle Milic is busy and I'm certain he gets distracted the same as I do during what must be a typical 12+ hour day running FnB. Somehow, the reservation never made it to the book.
So when we arrived at 7:45 last Thursday, there was no table for us. FnB runs full and I could see there was nothing he could do. As I mentioned earlier, I was tired, hungry, and looking forward to an amazing meal. Pavle did offer to send us a couple blocks away to his newest restaurant, which was really more of a wine bar with a small food selection.
I was disappointed, to say the least. I sent a few tweets letting the world know that FnB was somewhere I would never dine again. I also promised a blog post to further explain my displeasure. Yes, I know. The phrase "petulant child stomping feet" comes to mind for me too. We found another place for dinner and I calmed down. With a cooler head, I decided to just let this blow over and be done with it.
Twitter for more good
Then on Friday morning, Pavle reached out to me on Twitter with an apology and a request that I call him. I called and we had a nice conversation in which he apologized profusely and offered to find seats for us if I would ever consider dining with him again. So that same day, exactly 25 hours after we'd been turned away, we sat at the bar at FnB and enjoyed a meal second to none I have ever eaten with great food, great wine and a great host.
Is there a lesson?
There is. Use Twitter for good as Pavle did and not to vent and pitch a fit as I did.