Last Monday I wrote about Time Warner's "No I Can't" customer service attitude. I didn't name Time Warner then, but after a week of the problem still not being solved I figured it was time. Sprint on the other hand, approached a recent issue I had with a "let's solve the problem" attitude.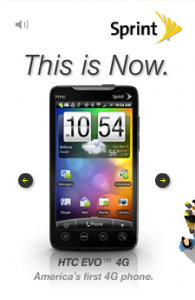 A happy "can do" representative. The call to Sprint occurred because notification that a rebate for a recent phone upgrade had been denied. The call was answered by an automated system but in very short order I was speaking to a human who began the conversation with "how can I help you today?" I briefly explained the problem and she said, "well, that's no good let's get the problem solved today."
The importance of a single point of contact. Instead of providing the telephone number for the rebate department (probably another company) she called them, explained the problem and then conferenced me in. By that time the problem had been solved. Total time about 10 minutes and one phone call with the initial contact point still on the call.
Be the customer's advocate. Since the original representative had remained on the call, the issue never had to re-explained. She took responsibility on my behalf to solve the problem within the Sprint system. Remember, she knows the Sprint system and various departments, I do not. Timer Warner representatives (I've now spoken to five different people) seem to assume I know which departments are involved in solving what I perceive to be a simple issue. I don't, and quite honestly it's their problem not mine.
When a customer calls your small business. Once your business has more than one person it becomes increasingly easy to take the Time Warner approach of "That's not my job (department)." Wouldn't it be equally easy to take the Sprint approach and stay on the call while you track down the person within the organization who can solve the problem? While it may not seem more efficient on the surface, I would argue that in the end fewer company resources are expended. That and you have a better chance of your customer writing a positive than a negative blog post about you.
Any amazing customer service stories you'd like to share? As a small business owner how do you approach customer service?