Stop letting others choose the messages you hear, read and see each day. Think about how little "good news" is reported on TV, radio or in the newspaper – almost none.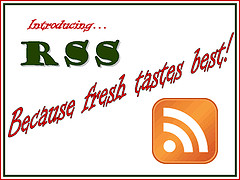 Create your own stream. If you aren't already using an RSS newsreader like Google Reader I highly recommend you start. If you already have a Google account the set-up process is painless. Now add some content:
Visit the blogs and news sources related to your work and click on the RSS or Subscribe links that are normally prominent and easy to find.
Find five blogs or news sources outside your comfort zone. Add those as well. Getting outside your comfort zone allows you to expand your thinking and model success from other sectors.
Throw some stuff in for fun. Sports, weather, fashion, food or whatever else you are passionate about.
You just created your own message. No longer are the fat cats at network TV or the talk radio blowhards choosing your message, you are. Your message will update frequently throughout the day. You can read your feed once a day or several times a day whichever works for you. Your chosen content, your message will be there whenever you are ready.
Take care of your RSS feed. Adding to your feed is easy and I find myself doing it often. Taking some time to periodically prune your feed sometimes gets forgotten. When I find one of my blogs or news sources turning caustic or what I perceive to be negative I drop it like a hot potato. Life is to damn hard as it is I don't need to add the negative blather of others, thank you very much.
Help Google help you. There is a "like" option at the bottom of every item in your feed. If you like the piece click the like option. By doing so you are helping Google learn your reading habits. After you have done this for a while (say a month) try the "Recommended Items" feed that Google has created for you. My guess is you will find some interesting (and yes some bizarre) items to add to your daily message.
Please share the good stuff. When you find good or better yet great content please click on the "share" option in your feed. You can follow the shared feed of others. I follow the feed of about a dozen people. Many days, most of what I read was shared by them. I know if they cared enough to click that share button it's probably worth a look.
Creating your own RSS feed is production, the stuff you care enough to share, that's shipping it baby. What have you shared today?
Image Credit: http://www.flickr.com/photos/lukethelibrarian