Do you wonder what it's like to spend a few days face to face spending time with other bloggers and social medial devotees? In my experience, it's some serious fun and that is why I am headed back to BlogWorld this October. At the end of this post you'll have an opportunity to sign up for BlogWorld Expo with with a great discount offer that ends today.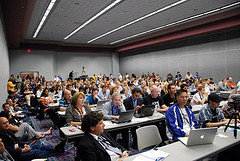 BlogWorld is worth the time and expense. I have attended BlogWorld in the past. I learned a great deal by attending educational sessions and walking the show floor talking to the exhibitors face to face. This alone made attendance worth the price of admission. A few years ago I attended Matt Mullenweg's keynote and learned enough that I decided to stay with WordPress when I had been looking at other blogging platforms. I'm glad I've stuck with the platform and might not have without attending that keynote.
unGeeked converted me. Earlier this year I attended the unGeeked conference in Milwaukee. Spending time with the who's who of social media for three days was amazing. Most of the big names in this game are still down to earth approachable people. I met Scott Stratten at unGeeked and he will be keynoting Thursday's B2B sessions at BlogWorld. He's as real as they come and was willing to talk to anyone during the conference and at the after parties. I found this with both the regional and international stars of social media. It is, after all, a social industry. If we can't all talk to each other, something is seriously wrong.
Chance meetings are priceless. How can you put a value on lunch, dinner or even just sharing a beverage break with an A-List blogger? That's the kind of thing that happens at these conferences. The A-List social media types I've been honored to spend time with love to share their knowledge and help others grow and succeed. Know why? In addition to being nice people they know you are a blogger and will blog about meeting them and how nice they are. It grows their social proof and it could help your site traffic too.
My Ask. First, I will be at BlogWorld Expo (affiliate link) and have already signed up with the exact same offer I'm presenting here. The early bird registration ends TODAY and with the code "EBIRD" you can save an additional 20% off the already low early bird prices. As far as I know this is the best deal that will be offered to attend BlogWorld. If you're serious about blogging and are thinking about going please sign up today. The pesos you save can go towards your hotel room, airfare or even just fun money in Vegas.
Any other social media "must attend" conferences you want to let me and the readers know about. Feel free to use the comments to create a list.
Photo Credit: http://www.flickr.com/photos/adrants