There is no right answer to open or closed comments. On this blog they are open and unmoderated. That being said I wouldn't hesitate to delete a comment should it cross any lines…my lines as it is my blog.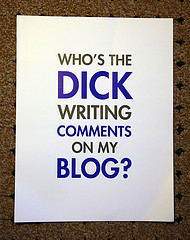 The case for closed. Many of the blogs I read on a regular basis have comments closed. In the cases I can think of the authors are successful and published. Two examples are Seth Godin and Tom Peters. Mr. Peters just closed his recently. In both cases the volume of comments they receive is not something they could manage on their own. At least not and maintain their otherwise successful businesses which are not primarily blogging. So, their decisions to go with closed makes sense, right?
Answering takes time. I love reading and responding to your comments but even on this modest blog it takes time. Whenever you guys leave  one I get an email. I read those emails almost immediately. Leaving quality messages on a blog is the fastest way to get the attention of someone who loves blogging. I suggest going in at least a few times a week to respond to each and every comment. I figure if you took the time to read the post and add to the conversation it's the least I can do. Again, all of this takes time. Time that could be spent blogging new content. Perhaps content that changes the world in some small and positive way.
Open grows a community. For me, the time is so worth it. I've developed more blooming friendships with the people who comment here than I ever imagined possible. My friend Sue Spaight figured me out recently when she said that, I thrive on community. There is, however, more to it than the ego strokes each and every comment affords me. The topics grow richer with your added content as well. Then, every once and a while a post goes wild with back and forth between dialog. I love that. Watching two people who may have never met but for this blog, leads me to believe some good is coming of the work I do here.
New topic and business ideas. Want some topic ideas for your blog that will generate traffic? Comb the comments of blogs in your chosen vertical topic area. Look for posts with lots of comments. Read the whole thread start to finish a couple times. Re-read the post and see how it all ties together. Some of the best posts I have written and read are derivative works of other bloggers. This blog is creative commons licensed for a reason. Use the ideas, share the ideas, grow the ideas. Just remember to add the uniqueness that is you to the topic. I've also discovered a few great business ideas using the same method on this and other blogs.
So, what's your take, open or closed? If open are they an ego stroke or a community builder? Comments are open and unmoderated so jump right in 😉