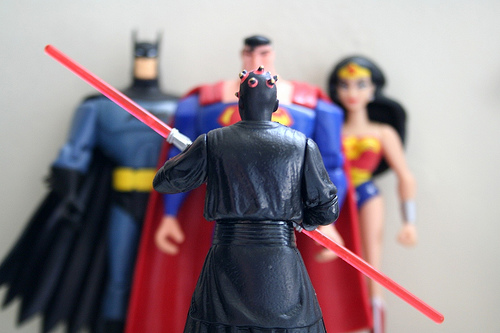 Today I have the pleasure of introducing a guest post from my friend Jeffrey Allen. Jeff is quite the critical thinker and can make even the Batman or Superman question interesting and insightful. Take it away Jeff!
I like to ask a simple question of everyone I do business with. It gives me a bit of insight into how they think, and possibly how they do business. My question is this: If you had to choose one, who would you rather be Batman or Superman? Now you're probably thinking what do comic book superheroes have to do with business? Well, before we get to that let me start by answering my own question, and my answer is: Batman.
Build a reliable network
Part of what makes Batman as effective a crime fighter as he is comes from the vast network of reliable information sources he's cultivated. Everyone from the common "Joe" on the street to super-hackers and underworld bad guys. His stream of relevant, reliable information allows him to monitor his competition and always be working on new things while still keeping an eye on the present.
Know your competition
Batman studies every aspect of the people he interacts with, everyone from business partners to super villains. He studies what they do, and how they respond in certain situations. He examines all the information he can find about them noting their individual strengths and weakness.
Do something with what you learn
Batman is proactive, not reactive. Because he took the time to learn about his competitors he can formulate a business plan and a strategy based around the knowledge he gained from understanding his competitors, and from matching that up against his own strengths and weaknesses. Think of it as a solution to how should he deal with them if he has to.
Discipline, dedication, desire
The attribute that makes Batman so formidable is his discipline. He is driven to be the best. He trains his mind and his body relentlessly. He dedicates the time needed to educate himself on what's happening in his area. He doesn't quit when it gets tough. Because of this he always finds a way to get where he wants to be.
So why be like Batman instead of Superman in business? Superman relies solely on his superpowers to solves problems, Batman doesn't. Batman relies on himself, his knowledge, his skill, because in the end, in business there are no "superpowers", it's just you, and your business.
So readers, what say you – Batman or Superman?