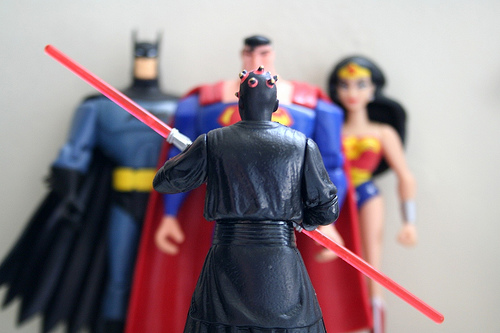 Last week I shared my friend Jeffrey Allen's Batman or Superman post with you. Jeff had so much fun writing that one he offered us this follow-up. I suggest taking a minute to read last week's part one first.
In our last post we looked at why it's better to be Batman than it is to be Superman when it comes to doing business. In this post we'll look at what it takes to conquer your Rogues gallery of super villains and arch enemies.
Alfred Pennyworth – He's Batman's "Gentleman's gentleman", a Butler. But he's also a confidant, and a voice of reason that speaks truth to power when no one else can get through. Alfred signifies a wealth of experience in both life and business, and offers a slightly different viewpoint. In business, we can be blinded by just our way of thinking. Because of this it is important that we have someone, or several "someone's" we can share our ideas with and get feedback we can use to move forward.
Robin – He's that sense of youthful energy coupled with a "can-do" attitude that verges on invincibility. In business we need to keep things fresh, always keep looking for new ways or better ways of doing what it is we do. To find your Robin you'll need to rediscover that vivid imagination you may have put away when you become an adult. Find ways to be creative that excite and inspire you and bring that excitement and inspiration to your ideation process.
The Joker – He's Batman's ultimate arch nemesis. For a business owner this could be an actual competitor or it could be a habit or some other thing that is holding you back from being as successful as you want to be. If it is a habit, like time management that is your Joker then take a hard look at where your time is really going and look for ways to streamline things. If it's a competitor look at what they are doing versus what you are doing. Are they doing something you're not? Can adapt what they're doing so that it works with your business? Don't be afraid to take a hard look and be honest, who's your Joker and what do you need to do to beat them?
Two Face Harvey Dent – If you don't ever have any doubts in business, then I'd have to say you're doing it wrong. Both life and business are fraught with doubt. The key though is what you do with it and how you choose to handle it. Doubt, like Harvey has two faces, "But if this fails…" 1) "it's not the end of the world" or "it will be absolutely horrible for business." The key to beating your businesses Harvey Dent is to do your research. Know the risks. Make decisions based on facts. While you can never totally rid yourself of doubt you can assure yourself you've done your homework and made the best decision based on the facts you have.
The Penguin – Being the personification of an Emperor Penguin, Oswald Cobblepot represents how a business can get swept away, or put off track if it doesn't manage Its information consumption properly. Look at what you're consuming in the way of blog posts, and podcasts. What about books and magazines> Is there a way you can sharpen your focus and lessen the amount of information your consuming at the same time? You know, separating the wheat from the chaff.
Do know who you're Alfred and Robin are? What about your Rogues Gallery? Who or what is your Joker? Remember, business isn't a solo sport. Choose your team wisely. Don't be afraid to let them join you in overcoming your rogues gallery.