When preparing to speak, choose talking points that focus the dialog around the audience point of view and will resonate with them. Here is how I prepared for the opportunity to speak for the Milwaukee Likemind group about using your blog as a homebase for all on-line activity.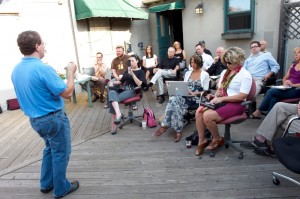 Topic selection. When Jeff Larch contacted me with only two weeks until the meeting date I knew we would need to work together to pick a topic I was currently focused on. I'm currently putting lots of effort into improving my company and personal web-sites(blogs) as homebases for the ColorMetrix and Jim Raffel brands. Blogs as a homebase also gets lots of play as a topic on the A-list blogs these days so it seemed to Jeff and I the topic would result in audience engagement.
It really is all about them. I can talk in front of a mirror or video camera anytime. Doing this will actually improve your delivery skills if that is the kind of thing you want to work on improving. When I get in front of an audience, however, it all changes. Now, it's time to share knowledge and shorten learning curves for the attendees if you can. You'll know if you achieved audience engagement by the liveliness of the question and answer session that follows most presentations. Seems to me lots of good questions means you achieved the it's all about them goal.
Q & A time is the payoff. If you've really done your job well, you will learn as much as the audience from the questions and answer session. The questions will tell you two things for sure. First, what topic areas did you get the group thinking about. Second, perhaps you'll want to cover that area in more depth next time you get to speak. I've watched the Q&A section of the video a few times and am planning to watch it more. I've pulled some topic ideas from it and learned a few things myself.
If you've got a spare 45 minutes… The video above is the entire Linkmind presentation. Even if you only get the chance to watch a short portion your feedback in the comments for this post would be greatly appreciated.